In what looks like a major shift since the previous Summit in 2019, almost every Head of State highlighted the need to phase out fossil fuels as the 2023 UN Climate Ambition Summit, convened by UN Secretary General, Antonio Guterres, got underway in New York.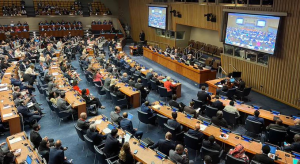 EU Commission President Ursula von der Leyen, German Chancellor Olaf Scholz, Chilean President Gabriel Boric, Tuvalu Prime Minister Kausea Natano, Republic of Marshall Islands President David Kabua, among others, flagged the need to phase out fossil fuels.
There are expectations that countries at the UN COP28 this December will debate goals such as tripling renewables and phasing out fossil fuels.
Several leaders (including Chile and Colombia) called out the malign influence of the fossil fuel sector on national policy making and multilateral processes including in the halls of the UN, calling out their role in seeding denial, delay and deception.
But the summit was notable for who wasn't in the room: major polluters US, China, UK and France were all uninvited or skipped out, but the leaders present did not wait for international deadlines to take action. They outlined the steps they're taking across their entire economies, from boosting renewables to electrifying transport, regulating methane and eliminating fossil fuel subsidies as well as investing in adaptation.
Mia Mottley of Barbados, who has been leading on the Bridgetown Agenda on the reform of the international financial institutions, called for more leaders to get concrete on MDB reform and the role of finance and insurance companies in climate action.
She called for climate change to be dealt with as seriously and rapidly as the Ukraine war; she said borrowing money to respond to climate loss and damage was painful, unconscionable and almost a crime against humanity. She also called for debt cancellation for all poor countries so that they can meet the SDGS and take climate action.
Oliver Bäte, the CEO of Allianz, one of the few companies in the room, said that not working on the transformation or slowing it down is foolish and irrational. He called for market-based solutions that reflect scientific and economic reality. Whilst Allianz is looking to expand investment in climate and clean tech, he called for coal to be phased out 'now' and said there needs to be less demonization of markets.
He said: "Our commitment is to grow the revenues in commercial and other insurance from renewable energies and low carbon technologies by 2030 by 150%. We now must phase out coal now. And we need to strongly reduce oil and gas."
Prime Minister Justin Trudeau of Canada was challenged by the facilitator about the fact that Canada is one of the largest fossil fuel expanders in the world. While many other leaders explicitly named the culprits of this summer of devastating impacts – the burning of fossil fuels, and the industry's reckless delaying and diluting of climate policy – Prime Minister Trudeau was not as explicit. His answer focused on tabling oil and gas emissions cap regulations by end of year and going beyond Canada's current methane target of a 75% reduction by 2030.
Speakers called for the operationalisation of the loss and damage fund with President Lazarus Chakwera of Malawi detailing the country's devastation from cyclones on people's lives, diseases, food and water sources. He termed Malawi as the poster child of climate injustice; a nation on the receiving end of climate events it did not cause.
Californian Governor Gavin Newsom said the climate crisis is a fossil fuel crisis: "This climate crisis is a fossil fuel crisis. This climate crisis persists… it's not complicated. It's not complicated. It's the burning of oil. It's the burning of gas. It's the burning of coal. And we need to call that out. For decades and decades, the oil industry has been playing each and every one of us in this room for fools. They've been buying off politicians. They've been denying and delaying science and fundamental information that they were privy to that they didn't share, or they manipulated. Their deceit and denial going back decades has created the conditions that persist here today."
Kenyan President William Ruto called for a universal tax on fossil fuels to fund resilience, loss and transitions: "The Nairobi Declaration sets out viable sources of resources for viable climate action which runs to the order of trillions of dollars by including a universal tax on fossil fuel trade, emission levies on aviation and maritime transport and a global financial transaction tax. Neither Africa nor the developing world stands in need for charity or handouts…what we need is fairness."
Barbados Prime Minister Mia Mottley called for the climate crisis to be taken as seriously as the Ukraine conflict: "I hope that in the same way we can take Ukraine seriously in the Security Council, that we can take the climate crisis seriously and the financing needs for it in the Security Council. This is as much a threat, in fact it is a greater threat, because more lives are at stake globally than are at stake in Ukraine. And I have nothing against Ukraine, in fact I hope that the people of Ukraine receive all of the support that they do and that they need. But I know that the people of the world need the support and without the urgent intervention to settle the financing framework, we are not going to reach there."
Alden Meyer, Senior Associate E3G, said: "There is clear consensus out of speeches by leaders thus far that what's needed to confront the climate emergency is clear talk and concrete action. We heard from many the imperative of commitments both to phase out production and use of fossil fuels and to mobilize the much greater sums of finance needed to help vulnerable countries and communities cope with the ever-more disastrous impacts of climate change.
"But leaders from many of the world's largest economies and emitters – including China, India, Japan, and the United States – are not in the room; they and others must step forward with much greater ambition if the COP28 climate summit in Dubai just over two months from now is to deliver the transformational course correction we so clearly need."
Amanda Starbuck, member of the UN's High-Level Expert Group on Net-Zero, and programme director at the Sunrise Project, said: "The most notable piece is who was NOT in the room today. There was a gaping absence of banks that are self-declared leaders on climate – notably Barclays, Citi, HSBC and RBC, all of whom jumped on the net-zero bandwagon without publishing the requisite policies to get there. Banks are now becoming pariahs in lots of important cultural and political spaces.  As these institutions think about publishing their transition plans, I implore them to show genuine ambition and integrity, something we witnessed from attendees today. This has to start with actually transitioning their financing from fossil fuels to clean energy."
Bill Hare, CEO and Senior Scientist, Climate Analytics, and member of the UN's High-Level Expert Group on Net-Zero, said: "In a remarkable shift, a broad array of countries has declared the urgent need to phase out fossil fuels. This was reflected in the statement of the sole company in attendance so far; insurer Allianz, whose CEO called for the phase-out of coal and large reductions in oil and gas.
"Their transition plan follows the principles of our UN group recommendations and the Net Zero Asset Owners Alliance Target Setting Protocols, establishing material short term targets and avoiding the use of questionable carbon offsets. This is a significant vindication of our efforts to spur the next step in net zero – a real focus on action here and now. Not only is net zero alive and kicking, but everyone also deciding to stay quiet or move backwards is putting their own companies, regions and countries at risk."