It was neither a Saturday nor a Sunday. And it wasn't in the evening. It was a weekday during school hours, at a time when their counterparts are learning. Scores of children were seen whooping jubilantly over a new bride at the El-Miskin centre camp – one of the several internally displaced persons (IDP) camps in Nigeria.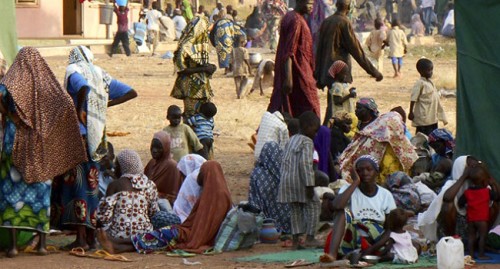 A petite girl of 14, bedaubed in a long red veil adorned with gold trimming, had just been ushered into matrimony. The children shouting ameriya (new bride) formed a local bridal train, accompanying her to her husband's hut in the camp. It was gathered that this was the normal way of life in this camp, which is run unofficially by a Muslim philanthropist, at Jere local government area, Maiduguri in Borno State.
No school in the camp
Ali Hashir, the chairman of the camp said, "There is no school here. The children don't go to school, because of that the girls marry early. There is nothing they are doing here, but to help their mothers (who teach them to become mothers too)."
Hashir, who is also the son of the philanthropist, pointed me in the direction of the bride's father who was squatted on a mat, in company of some elders, counting the beads on his tasbih (a string of prayer beads). "Why should I keep the girl when she is ripe for marriage?" he answered through an interpreter, after which he continued his prayer recitation.
The bride wasn't allowed to speak, but Ali Abubakar Yusuf, a millet farmer, who articulates properly in English, expressed fears about the future of these children.
"We are in critical condition in this camp. There is no school (western education) here," he said counting his fingers as though about to enumerate the consequences.
According to him, the children play around the camp all day after attending sangaya (Quranic school for few hours). Some help their parents while the teenage girls are married off early.
"If you came here three days ago, we just married three of them (under 18 girls). We marry them among other IDPs in the camp."
Hashir said that, around April 2017, some students from the University of Maiduguri arrived at the camp with the attempt of establishing a school there, but it failed. "We don't know why they stopped."
Yusuf, the millet farmer, added: "Education is the best. Someone who cannot read or write; his life is in danger," he said, his face drawn as though in agony. "Please help us tell the government to come and help us. Let them help our children go to school. This Boko Haram problem is caused by lack of education, if we don't send our children to school, their future is in danger."
Hashir, however, did not admit that it was the lack of school in the camp that was fuelling such.
"It is our culture, normally. Not because of the camp." But Yusuf believes that if there is a school to enlighten the mind and keep the children and teenagers busy, there will be less of such occurrences. "It is because of they have nothing to do. They (children) cannot be controlled," Yusuf said with a deep sigh.
"We are in a critical condition here. The government has abandoned us," Yusuf added, bringing out a green and white identification card issued by the National Emergency Management Agency (NEMA).
"NEMA only came here once, nine months ago, and gave us this card. Out of the 1,392 households in this camp, they only registered 450.
"We need assistance in the area of food too. The people giving us food monthly are the World Food Programme and Action Against Hunger."
When contacted on why there is no semblance of formal education at this camp, the head of media and communication of the Presidential Initiative for the North-East (PCNI), Abdulkadir Alkassim, said the committee is trying its best with the little fund to coordinate all humanitarian support to meet the needs of the people.
"We are limited by funds. If you see UNICEF bringing schools to the camp, it is from the kind of work we do." According to him, only N10 billion was released out of the N45 billion budgetary allocation made for the committee in 2017. He did not assure if the situation at this camp would improve soon, but he commended the philanthropist and several others who are supporting the government.
"The displacement problem is a huge one. Government cannot do it alone. We need support from NGOs and more philanthropists. Right now, we are working with Victims Support Fund and an Australian NGO that is taking care of orphans of Boko Haram. We are coordinating the activities, gradually," he said.
Statistics from the Universal Basic Education Commission (UBEC), which is mandated to ensure that every Nigerian child has a right to education, show there are over one million children enrolled in Borno State in the academic session 2013/2014. As at March 2017, the commission transparently published on its website, www.ubeconline.com, that a total sum of about N9.3 billion was disbursed to Borno State as its matching grant between the year 2005 and 2016.
With this fund, about 1,700 children at this camp are not expected to grope in the darkness of the mind. Recently, the state governor, Kassim Shettima, claimed it will spend 65 percent of its budget on education, but all this is not felt in this camp.
Apart from the denial of the right to education, the Child Rights Act 2003, which is implemented in only 23 states of the federation, considers marriage before age 18 a violation of the rights of a child.
By Romemel Akodu