Ekiti State Governor, Mr Biodun Oyebanji, has indicated his administration's readiness to rejuvenate Ekiti forest assets to enhance economic contribution from the sector, provide ecological sustainability and create wealth by tapping into nature-based solutions to climate change.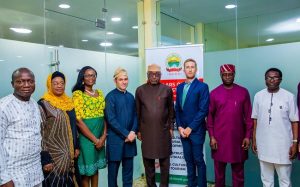 Governor Oyebanji, who disclosed this during a meeting with officials of Southpole Limited and Dannof Limited in his office, said his administration is interested in earning carbon credits through reforestation.
Governor Oyebanji, who noted that all forest assets in Ekiti have been degraded, said his government would partner with SouthPole limited and Dannof Nigeria Limited to revitalise the forest reserves, adding that his prosperity agenda could only be achieved when the environment is conducive for the people of the state and investors.
"We are extremely interested in reforestation, we are aware that our forest asset has been degraded, we want to earn carbon credit but we know is not a dash, there are some things we have to do to earn it and the earlier we put in place structures and situations to get to that point the better for us.
"The State wants to do business with Southpole because we recognize that they are critical and a major player in that field, they have demonstrated confidence and commitment. So we are interested," the Governor added.
Speaking earlier, the Southpole Limited Commercial Manager for Africa, Mr Roland Hunter, said the purpose of the meeting was to seek collaboration with Ekiti State Government to support local partner on how to explore ways to help Ekiti State Government in the resurrection of forestry reserves to create social benefit, generate revenue and provide eco- system services.
Dr Akinyemi Akinyugha, the state Coordinator of the NEWMAP watershed management project, added: "This collaboration signals our aspiration to consolidate and scale sustainable reforestation activities undertaken by Governor Oyebanji, aimed at generating direct income for local communities whilst delivering climate benefits, biodiversity & soil restoration."
Also present at the meeting were Secretary to the State Government, Dr Habibat Adubiaro; Special Adviser, Investment, Trade and Industry, Mrs Tayo Adeola; Special Adviser, Agriculture and Food Security, Mr Ebenezer Boluwade; and Technical Adviser on Forest Management and Climate Change, Dr Olly Owen.
The deal will see Ekiti State Forestry Commission, global carbon asset developer Southpole Ltd, and Nigerian timber company, Dannof Ltd., working together to implement a Nature-Based Solutions approach using reforestation in government Forest Reserves to replenish Ekiti's one-vast forests, combat climate change and create jobs.
The collaboration will mobilise up to $11.7 million of private investment and reforest up to a maximum of 5,500 hectares of degraded reserves with indigenous forest trees, alongside a programme of community benefits.
The project will be funded by the issuance of carbon credits in global certified voluntary carbon markets, which will be marketed for purchase by companies wishing to offset emissions of carbon dioxide from polluting activities.
Areas prioritised for the project implementation will be the most degraded and deforested areas within over-exploited forest reserves. These will be identified using satellite mapping with the collaboration of experts in Forest Measurement from Nigerian universities and using the technical skills of Forestry Commission staff.
Southpole are a leading global carbon asset developer with over 800 projects and 42 dedicated teams across six continents. Southpole Ltd Commercial Manager for Africa, Mr Roland Hunter, said: "We are excited to explore an innovative public-private partnership approach which can deliver social and biodiversity benefits."
Dannof Ltd are a timber development company with over 20 years of experience creating and managing commercial plantations in South-Western Nigeria. CEO, Mr Ibukun Faloye, said: "We are here because we found Ekiti State to be the most conscious state at the forefront of reforestation development."
Dr Owen, TA to Governor Oyebanji, said: "This partnership shows the benefit of continuity in governance. We are able to build this partnership with a global leader in the field because Governor Oyebanji is taking the previous administration's commitment to restoring the state's landscape to the next level."
Nigeria has had one of the world's highest rates of forest loss. The Federal Ministry of Environment calculates that Nigeria has lost 90% of its original forest in the past 100 years and the country continues to lose 400,000 hectares.