At launch events held on Friday, November 11, 2022, at COP27 in Sharm El-Sheikh, Egypt, a major package of support of over $150 million for adaptation was launched. The package was announced at a special session on "Advancing Adaptation Action in Africa" co-hosted by Sameh Shoukry, COP27 President, and United States Special Presidential Envoy for Climate, John Kerry.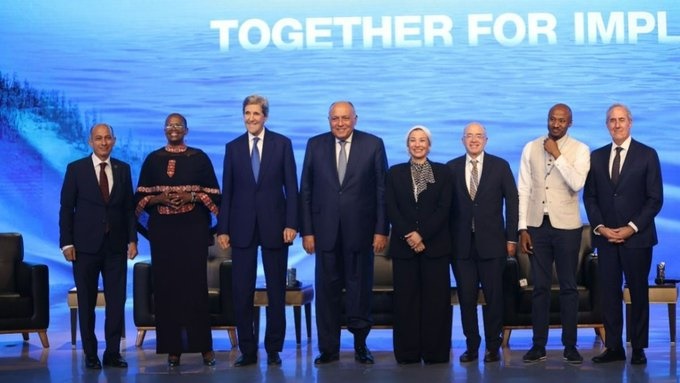 COP President Shoukry, speaking at the events, said: "The key challenge for African countries is to access funding for climate action. Recognising that progress towards adapting to climate consequences and enhancing resilience is crucially needed, we launched a couple of days ago here at COP27 the Sharm-El-Sheikh Adaptation Agenda.
"This agenda comprises a total of 30 global adaptation outcome targets by 2030 that are urgently needed to address the adaptation gap and increase the resilience of 4 billion people through accelerating transformation across five impact systems: food and agriculture, water and nature, coastal and oceans, human settlements, and infrastructure."
COP27 President Shoukry further said: "Egypt as COP27 President and as an African nation, is well aware of the adaptation challenges facing our continent, and we are pleased to have collaborated over the past year with the United States to develop a diverse package of support for Africa in the field of adaptation and resilience."
As part of the US Emergency Plan for Adaptation and Resilience (PREPARE), has seen the US double its Adaptation Fund Pledge to $100 million, and the Accelerating Adaptation in Africa initiative provides $150 million in support to accelerate PREPARE's work across the continent.
The Adaptation in Africa initiative previously announced in June 2022 by President Biden and President El-Sisi has the potential to result in $4-10 of benefits for every dollar invested. It now includes support from the US for:
$13.6 million for a Systematic Observations Financing Facility that will help fill weather, water, and climate observation gaps in Africa.
$15 million to support the co-development and deployment of early-warning systems in Africa to cut the number of people who need emergency assistance in half by 2030 – and from 200 million to just 10 million by 2050.
$10 million to support the capacity building of Africa's current and future decision makers. This includes $10 million to support the launch of a new adaptation centre in Egypt – the Cairo Centre for Learning and Excellence on Adaptation and Resilience, announced by Egypt, to build adaptation capacity across Africa.
$2 million to the Resilience and Adaptation Mainstreaming Programme to build the capacity of governments to manage climate risks and access finance.
$3.5 million in support for the Least Developed Countries Initiative for Effective Adaptation & Resilience, helping African countries like Uganda, Malawi, Gambia, and Burkina Faso to enhance access to adaptation finance for the most vulnerable.
Expanding access to risk-based insurance for the most vulnerable by supporting regional risk insurance pools, including contributing $12 million to the Africa Disaster Risk Financing Programme and $12 million to ARC Ltd.
$25 million to the African Union's flagship Africa Adaptation Initiative (AAI), which is hosted by the Egyptian government, to launch the AAI Food Security Accelerator, which will dramatically speed- and scale-up private sector investments in climate resilient food security in Africa.
Encouraging private sector innovation through $3.8 million to CRAFT TA Facility, and $2 million to launch an adaptation window of the Global Innovation Lab for Climate Finance to help develop new financial instruments and mechanisms to harness private investment in adaptation.
$100 million in adaptation funding in FY 2022 to support food systems.
The President of the United States of America also announced the launch of a new initiative to support Egypt in deploying 10GW of new wind and solar energy while decommissioning five GW of inefficient natural gas generation.
Special Envoy Kerry said: "We are completely committed to working together with our partners to support vulnerable communities in their efforts to, sadly, have to adapt to the impacts of climate change. Something that everyone whether in developed, developing or emerging economies are impacted by."
Earlier this week in a statement released via the US Embassy in Cairo, Kerry stated that "unprecedented" investment in clean energy is needed to limit warming to 1.5°C and avert catastrophic climate impacts on communities worldwide. His statement added that "annual clean energy investment must triple to $4.2 trillion by 2030" with over half of that investment needed for emerging and developing economies.
The "Advancing Adaptation Action in Africa" event was immediately followed by a second event, also jointly hosted by Egypt and the United States, addressing "Accelerating mitigation ambition while ensuring energy security" placing focus on providing support for the Egyptian Nexus of Water-Food-Energy (NWFE) programme.
At COP27, Egypt signed partnerships for its NWFE programme to support the implementation of climate initiatives with investments worth $15 billion. This includes an energy project worth $10 billion and eight food security, agriculture, irrigation, and water projects.
"I wish to thank the United States for the extremely constructive collaboration we have had over the past year in developing this package, which demonstrates the commitment of both Egypt and the United States to the cause of adaptation in Africa and is indeed an exemplary representation of the COP27 mantra of implementation and action," concluded COP27 President Shoukry.