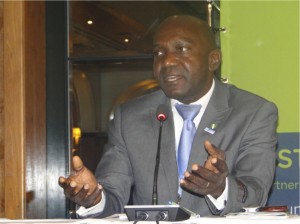 The recently released Fifth Assessment Report (AR5) of the Intergovernmental Panel on Climate Change (IPCC) has expressly maintained that human influence is extremely likely the dominant cause of observed warming since the mid-20th century, and that the warming of the climate system is unequivocal while the reality of the observation is 95% certainty. This is against the previous AR4 that was adjudged very likely with 90% certainty in 2007. The new revelations, as contained in the first segment of the report, Physical Science and released on the 27th September 2013 in Sweden, Stockholm, show that there is evidence of marked increase in the impacts of climate change on both planet Earth and humanity. With this latest assessment of the global climate change situation, it may therefore, not be incorrect to state that the impact of climate change increases on geometric rate while the global effort to stem the tide is on arithmetic progression. This harsh reality is hard to take. The good news is that we still have a chance to avoid the worse consequences of a warming planet – but it's going to take an epic effort and actions, probably at supersonic progression.
According to Qin Dahe, Co-Chair of first segment, "Our assessment of the science finds that the atmosphere and ocean have warmed, the amount of snow and ice has diminished, the global mean sea level has risen and the concentrations of greenhouse gases have increased". This however translates into increased temperature and heat waves, sea level rise, ocean warming, decreasing glaciers and ice sheets, which further corroborate what the World Bank in its June 2013 Report (Turn Down The Heat: Why a 4oC Warmer World Must Be Avoided) stated in clear terms that "high temperature extreme appear likely to affect yields of rice, wheat, maize and other crops, adversely affecting food security", stressing that "promoting economic growth and eradication of poverty and inequality will thus, be an increasingly challenging task". This means that the effort to achieve the MDGs and the Post-2015 development agenda or the future Sustainable Development Goals (SDGs) may become more challenging to achieve.
The reality of the latest postulations of the World's apex body for climate science may however be a great food for thought to the world, especially the developing countries, whose capacity to adapt to the impacts and mitigate the effects of climate change is either weak or non-existent, and yet will be worst hit by the ill-consequences. Alas, its second segment findings and observations, which focused on the Impacts, Adaptation and Vulnerability, and released on 31st March 2014 in Yokohama, Japan, seem more worrisome and devastating going by the realism that the rate of occurrence of climate change impacts has so much dwarfed the hitherto global actions against it. It cataloged both the impacts that are already being observed and the future projections in simplified regional breakdown covering: Africa, Asia, Australia & New Zealand, Europe, North America, Small Islands, and South America.
The global Scientists further admitted that "Observed impacts of climate change are widespread and consequential. Recent changes in climate have caused impacts on natural and human systems on all continents and across the oceans", while on projection, it states that "Climate change will increase the frequency and severity of many types of extreme weather: In many areas, more frequent intense rainfall events will increase the frequency of flooding. Globally, more people will be exposed to floods and economic losses due to flooding. It's also likely that presently dry areas will become more severely drought-stricken". Two of these scenarios are expressly evident in severe proportions in Nigeria, where the Northern part is impacted with drought and desertification (at the rate 600m/year) occasioned by intense temperature and lack of rainfall, while floods and erosion enveloped the Southern part, occasioned by sea level rise and frequent rainfall pattern.
Meanwhile, there is the third aspect of the latest report that focuses on Mitigation of Climate Change and released on the 13th April 2014 in Berlin, Germany, which however provides various low-carbon pathways and green growth actions to be carried out for the reduction of greenhouse gas emissions. Furthermore, the three segments of the report will be synthesized into one by 31st October in Copenhagen, Denmark to give concise, action-packed analysis to all categories of Stakeholders, particularly the policy-makers, law-makers and decision-makers.
In all the three segments of the complete report, one isolating fact is the exigency of climate actions, which has characterized the clarion call for rapid response and firm commitment. It has become imperative for nations big and small, rich and poor, developed and developing to redouble their efforts on geometric progression to combat climate change. There is the dire need for governments, corporate bodies and the civil society Stakeholders to step up actions, separately or/and collectively. The developed countries should scale up their existing support and create new and additional ones, especially in the area of finance, capacity building and technology transfer to the developing countries while also living up to expectation in their commitment regarding binding emissions reduction targets. The developing countries should give priority to climate change mitigation and adaptation and incorporate them into their national development agenda.
Corporate bodies should ensure that their Corporate Social Responsibility (CSR) package is prioritised for climate action. Businesses all over the world should be regulated or their operations reviewed to statutorily require due climate-friendly actions. Contracts approval should entail commitment to climate action as one of its criteria. Renewable/bioenergy investments should be given incentives. There are also non-food crops such as Jathropha plant that can be cultivated to produce biodiesel at commercial scale if governments provide the necessary agricultural incentives. Donor agencies have a very important role to play in giving funding priority to climate action, while the international civil society organizations should consider promoting national climate actions as one of their focal points, especially in the developing countries. Consequently, the national civil society organisations should ensure that their Strategic Action Plans do give priority to promoting local actions in the area of policy/legislative advocacy, awareness creation and capacity building.
In Nigeria, the Presidential Commitment on Agriculture should encourage the cultivation of non-food energy crops in a commercial scale. The Federal, State and Local Governments should endeavour to respond to climate change impacts through implementation of climate-resilient projects and may however classify or label their completed and ongoing projects as climate change mitigation or adaptation so as to further increase climate change awareness and the exigency of responsive actions to combat it. In his book, "Understanding Climate Change", Surveyor Efik used Lagos and the South-South States of Nigeria as well as Amuwo Odofin LGA in Lagos State as case study and classified all their projects including that of President Goodluck Jonathan into climate change mitigation and adaptation. In due course, the 36 states and the FCT Abuja will be covered.
While Nigeria is preparing ahead of 2015 elections, the Nigerian civil society under the auspices of the Climate Change Network Nigeria hereby urge all incumbent and prospective politicians, the technocrats, policy/decision makers to incorporate climate change adaptation and mitigation actions into their political manifestoes and national development agenda. We urge President Jonathan, Independent National Electoral Commission (INEC), all the political parties and all the electorates/citizens of Nigeria to consider climate-friendly commitment as one of the criteria for selecting, adopting or voting candidates into elective offices. The state governors should embellish their states with green growth developments while the Local Government Chairmen should turn their constituencies into green cities. The private sector, including the banks should not relent in their effort to promote climate-friendly investments and sustainable green businesses. The traditional rulers, communities/indigenous peoples, academia, media, faith-based organisations, NGOs, youths, women, children, students and all other civil society bodies and individual citizens should, on their own or collectively, endeavour to take climate actions such as tree planting, replacement of incandescent bulbs with compact fluorescent lights, waste management, forest conservation and unblocking of gutters/erosion routes.
CCN-Nigeria also uses this medium to commend Mr. President and the Federal Executive Council for giving consideration to the National Adaptation Strategy and Plan of Action for Climate Change in Nigeria (NASPA-CCN), which has greatly promoted sectoral response to adaptation. As agriculture is the centrepiece of President Jonathan's transformation agenda, the Federal Ministry of Agriculture duly emerged the first to produce its sector-based adaptation response and plan of action, under the leadership of Dr. Akinwunmi Adesina as the minster. This has indeed increased the visibility of his government's commitment, not only to combating climate change but also in responding to the global call for climate actions, which will top the agenda in the forthcoming Ban Ki-moon's UN Climate Summit 2014 next month.
By Surveyor Efik (National Coordinator, Climate Change Network Nigeria, and Visiting Scholar on Climate Change Governance, Wageningen University, The Netherlands)