Edinburgh's endorsement of the Fossil Fuel Non-Proliferation Treaty has been described as a reality check in the face of the current crisis that sees Putin weaponising oil and gas money to threaten livelihoods and fuel terror.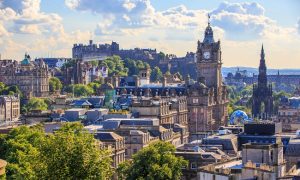 This demand to end fossil fuel dependence comes as the UN Secretary General responds to the latest IPCC report saying, "fossil fuels are a dead end – for our planet, for humanity, and yes, for economies".
The crisis in Ukraine, a war underwritten by oil and gas, underscores the urgency to accelerate action on renewables, a move that Nicola Sturgeon has noted that "even though Scotland, in many respects, is leading the world, we need to go further and faster as well".
Scotland, which played host country for November's UN climate talks, has reportedly tripled its renewable energy generation in the past decade, with renewables meeting 97% of the countries' energy demand in 2020. The shift is seen as an indication that renewables are not novel but proven and cost-competitive technologies that exist today, particularly notable for a country that holds 25% of Europe's offshore renewable energy potential.
Ken Penton, UK Cities Lead for the Fossil Fuel Non-Proliferation Treaty Initiative, said: "Edinburgh's endorsement of the Treaty is fantastic news for all of those who are striving to prevent catastrophic global temperature increases, which threaten the future of human life on our planet, by moving away from climate change-causing fossil fuels.
"It is the first Scottish city to endorse the Treaty – joining cities from around the world, such as Amsterdam, Barcelona, Bordeaux, Los Angeles, Sydney, Toronto and Vancouver. The fact that the decision to endorse the Treaty was a cross-party one – including Councilors from the SNP, the Labor Party and the Greens – is, we believe, particularly significant. We hope other Scottish cities will follow Edinburgh's lead and show their commitment to tackle climate change by adding their name to the growing list of those supporting the Treaty."
Scotland has more than 11,800 km (7,330 miles) of coastline, a testament to its huge offshore wind capacity. These coastlines are all under threat with sea levels around the UK expected to continue to rise under all emission pathways according to the UK's Met Office. For Edinburgh, the sea level rise is estimated to be as high as 0.90m.
The IPCC released its most dire warning yet on climate change impacts in its latest report. The world is encroaching on the limits of climate change adaptation, necessitating immediate action. Phasing out fossil fuels, which are responsible for 86% of CO2 emissions in the past decade alone, should be a priority for governments and the Fossil Fuel Non-Proliferation Treaty would provide a much-needed anchor for international cooperation on this.
The campaign for a Fossil Fuel Non-Proliferation Treaty was inspired by treaties that addressed the threats of nuclear weapons, landmines and other dangerous substances.
Over the past year, the campaign has been supported by 101 Nobel Laureates, 2,600 academics, 170 parliamentarians, hundreds of prominent youth leaders, a growing group of faith leaders, and more than 1,300 civil society organisations, including Uplift, Global Witness, War on Want, Extinction Rebellion UK, and Fridays For Future Scotland.