With several forecasts warning Nigerians about the socio-economic consequences of heavy rainfall in 2023, Ecobarter, a waste management company, has launched the "Go Green With Ecobarter" campaign to raise environmental awareness and assist the public in adopting sustainable trash solutions to tackle the devastating effects of climate change.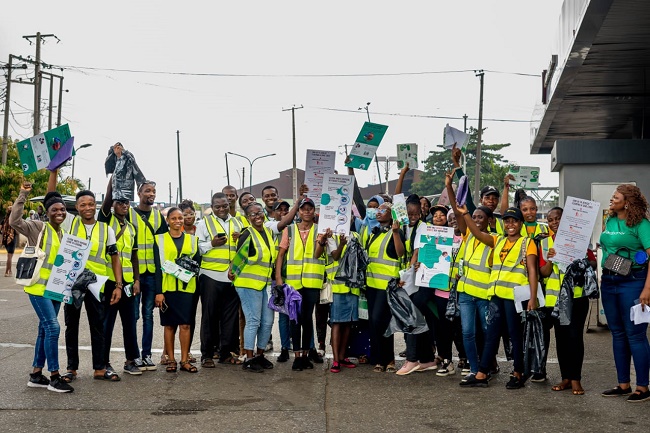 The initiative, which was unveiled on Monday, March 20, 2023, and is scheduled to end on November 18, 2023, is planned to mobilise 15,000 households and 30 communities throughout Abuja as well as Lagos and Benue states to take action that reduces the danger of flooding, safe properties, displacements, and loss of life as anticipated by numerous predictions.
Rita Idehai, the organisation's Chief Executive Officer (CEO), explained that she and her team flagged off the campaign because they realised that one of the primary factors contributing to Nigeria's waste sector crisis is a lack of citizens' knowledge about the aftermath of indiscriminate disposal and their limited access to more environmentally friendly alternatives.
As a result, she explained that the campaign is a response mechanism to help people living in these areas understand how their daily behaviours contribute to greenhouse gas emissions and introduce them to more sustainable alternative lifestyles that will help address the problem.
Idehai revealed that her establishment is collaborating closely with the appropriate waste management agencies where the campaign is being run to encourage locals to report obstructed drains to advance the project's objectives and ensure their fulfillment.
"Once we receive the reports," the Ecobarter CEO said, "we work with these agencies to clean up and free the drainages so that water can flow."
The environmentalist refers to this practice as sustainable waste management and believes that if these people adopt it and recycle through the Ecobarter platform, the amount of waste that needs to be disposed of will be reduced by more than 40% and much of the drainage in major cities will not clog.
So, rather than allowing organisations to operate in silos, she urged the government to unite voices and support green initiatives in order to mainstream sustainable solutions into waste management in the country, and a good place to start is to establish forums for experience sharing, learning, and support.
This is essential, she underlined, because one of the goals of the "Go Green With Ecobarter" campaign is to persuade people to sign up for the company's technology-enabled recycling platform, which allows customers to transform their trash into money.
She pointed out that making use of this kind of platform can help the government secure the required funding from the public and private sectors to build stakeholder capacity and establish a reliable data system that ensures free communication among the various climate adaptation coordinating bodies and helps Nigeria achieve its 10% emissions reduction priority in the waste sector, as stated in its Nationally Determined Contributions (NDCs).
Idehai claims that if she had the ability to halt the waste disaster and ensure that Nigerians live more sustainably, she would start a nationwide push to encourage people to go green, with clear incentives for them to do so.
The eco-activist indicated that she would achieve this by collaborating with the business sector to build large waste-product factories across states as well as dual hubs for disposing of recyclable and trash waste in a number of communities.
"This would be done with strong sanctions for defaulters to ensure that things are handled differently from their current sloppy state," she stressed emphatically.
According to the country's NDC, the waste sector accounted for 9% of total greenhouse gas emissions in 2018, with the situation expected to worsen by 2030 under the business-as-usual scenario, due to rising population and economic growth.
To address this issue, the government has set a 10% reduction in methane emissions as part of its mitigation measures in the waste industry, which also include other actions such as increasing legislation enforcement by strengthening or expanding relevant institutions and encouraging waste-to-wealth initiatives.
According to Nigeria's Environment Minister, Mohammed Abdullahi, the success of the waste sector's emissions reduction target would be determined by stakeholders' ability to translate promises into concrete initiatives that account for the uneven distribution of climate change's effects.
Speaking through Mr. Lawrence Adigwe, the ministry's director of Human Resources Management, who represented him at a stakeholder's inception meeting on the Climate Promises II initiative in Abuja organised by the Department of Climate Change, the minister stated that the unveiling of the nation's adaptation work plan and strategy demonstrates the government's commitment to take significant action to mitigate the effects of climate change.
"It is a call to action for governments, businesses, civil society, and individuals to work together towards a common goal of reducing greenhouse gas emissions, advancing sustainable development, and safeguarding our planet for future generations," he said.
Mr. Lealem Dinku, Head of Programmes at the United Nations Development Programme (UNDP), believes that Nigeria must act quickly to fulfill its commitments under the Paris Agreement to reduce greenhouse gas emissions that contribute to global warming in order to deal with the climate catastrophe.
According to him, these actions would necessitate both public and private investments in Nigeria to deal with the climate change disaster, such as appropriate auditing and regulatory frameworks that identify sustainable waste management as well as financing mechanisms to accelerate the country's achievement and tracking of its NDC targets.
"I encourage you, as enablers of the climate promise, to identify opportunities for engagement and partnerships," Mr. Dinku said, referring to a group of cross-sectoral stakeholder leaders who had convened in Abuja to deliberate on how to help Nigeria benefit from the climate promise II project.
By Etta Michael Bisong, Abuja