Residents of Umuezeka and Ekwashi communities in Ohaukwu Local Government Area in Ebonyi State are rejoicing, what with the recent installation of solar powered agro-processing industry by the United Nations Development Programme (UNDP) Nigeria and Energy of Commission of Nigeria (ECN) in collaboration with Ngbo Women Empowerment Cooperative Union.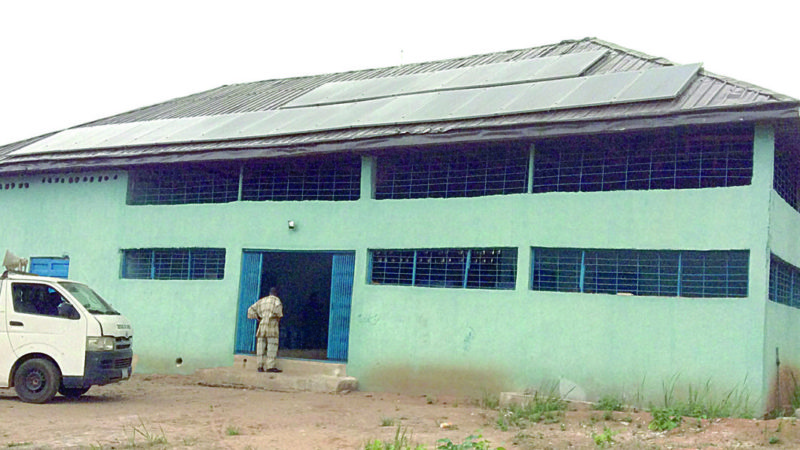 A building was constructed to safely accommodate both the electro-mechanical equipment and the solar-power plants and its control room, that process staple crops, such as millet, rice, maize, wheat and cassava.
The project utilised renewable energy resources (solar) to provide some of its energy needs, especially for agro-processing.
The communities lie within a high sunshine belt and thus have enormous solar energy potentials that can be productively harnessed to power many cottage industries, including agro-processing.
Ngbo people, like other Nigeria rural and peri-urban communities, where greater percentage of the foods consumed in the country is being produced, are off the national grid, with limited or no access to reliable sources of electricity.
The project includes one solar-powered water borehole built very close to the solar-powered community-based garri processing factory in Ngbo-Ekwashi village that provides clean portable drinking water to over 105 households constituting 2,405 population including children, youths, adults (905 males and 1,500 females).
President, Ngbo Women Cooperative Union, Mrs. Onwe Onyemaechi, said, "This solar technology has brought relief to our women and children."
She noted that the use of solar mills has reduced the amount of manual processing required and reliance on diesel-fueled mills as well as cost savings realised in the reduced consumption of diesel fuel, and reduced time the communities spent traveling to mills.
The time saved in manual labour has been redirected to other efforts that increase income and reduce poverty, particularly for women and children who are the primary source of labour for agro-processing.
Facts show that solar milling has the potential to reduce inequality and exclusion among the marginalised poor in rural communities in the country.
Onyemaechi hinted that "we used to peel cassava with knives; after peeling, we carry it to the stream located in far places that take about one hour journey to wash them.
"Thereafter, we use our hands to sieve it and pack as well as go to the bushes to fetch firewood. The garri consumes a lot of firewood before you produce one basin of garri.
"Sometimes, we buy N1,500 worth of firewood to fry one basin of garri. When we fry with frying pan and smokes will be entering into our eyes. It tasks our women and children health.
"In most commercial grinders, we pay up to N200 for a bag of garri as the owners complaint of using diesel to power the machines. With this new technology, we don't buy diesel anymore. It is powered by solar. Now to grind a bag of garri costs N50."
Under the project, two 5 ton/hour three-phase five horsepower electrically operated stainless steel cassava grater was installed to replace diesel-engine grater and the drudgery of going many kilometres to cue up for hours to grind cassava.
One tonne /day vibrating sifter (electrically powered) was also installed. Two gas or charcoal-fired automatic stainless steel garri fryers were also installed to fry the garri produced from the factory. Over 300 women, children (800 -boys) and children (1200 -girls) from the community are benefiting from the fryers and stop the use of firewood.
"Now to sieve the garri is very easy for us. We were sieving with hands, it takes a long time, as much as to complete a basin, and solar take about eight minutes,' the Union President revealed.
The villagers are very excited with the solar technology. For instance, the communities have free water from the solar borehole. "The road to the stream is very dangerous bushy and lonely.
In the evenings, children or women go with men to the stream to fetch water, but now people come here to fetch water every day," Onyemaechi said.
Another benefit that has come with the solar system is that the villagers no longer take bikes to the general market to recharge their cellphones, contact relatives in the city or know prices of products.
Then, they spend up to N300 on a return journey to charge their phones and a token payment of N50 for services. "We have a charging point now at the factory. All the villagers bring their phones here to charge.
We render the service free of charge. We're always celebrating here. It's just a dream."
According to her, children the perform 70 per cent of the duties associated with cassava production, the solar factory performs most of the jobs the children do like peeling, sieving and fetching firewood. "They are now free to go to school and learn," she said.
Sarah Elom also told the story of her desperate yearning for electricity some three years ago after she entered Junior Secondary School, and had to walk two miles daily to fetch water from the village stream before going to school. The early morning ritual affected her studies, she said.
After school, Elom would also take another turn to the stream and embark on manual cassava processing, or travel long distances to use a mill daily.
When that was done, she would also go to the forests in search for firewood to fry it. Now, that wearying routine has ended for good, she said with a smile.
An elder statesman and community leader, Chief James Nwaeze of Umuofor Community, said that the manual grater was causing a lot of body harm to the children and women, adding that the solar mill has come to address the worrisome issue.
"It has brought development to our community. People now come from far and near to use the solar powered machines," Nwaeze said.
He added that children who used to embark on search for firewood up to four miles are now using their energy in other areas.
"Most of the children have had snakebites in their search for firewood. I praise the magnanimity of UNDP and ECN to salvage the situation. With the project, the children have improved in their grades in schools," he said.
He urged the development agencies and government to support other communities in the area with such project.
Ngbo-Umuezeka Village Head, Omeji Sunday, said the programme has been of good use since its establishment last year. "The solar mill has relieved us of the problems we face in processing cassava. We also drink potable water now."
Mr. Joseph Ugadu, Special Assistant to the Ebonyi State Commissioner for Commerce and Education, welcomed the development, and stressed that the government is determined to improve on the agro industries in the area.
One of the women leaders in the community and head of the cassava growers, Mrs. Odom Elizabeth, disclosed that the cooperative had acquired three hectares of land to cultivate cassava, which will feed the industry.
"When we start, we will not be going outside to buy cassava. We intend to acquire land in more locations to make the place sustainable."