The Federal Ministry of Water Resources in collaboration with the National Task Group on Sanitation (NTGS) and the WASH Sector Emergency Response Group have flagged-off a National Hand washing campaign at a motor park in Abuja, the Federal Capital City, to prevent the spread of the Ebola virus in Nigeria.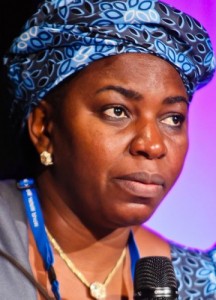 Officials disclosed that there are presently 19 proven cases of Ebola Virus diseases infection in Nigeria with 12 survivors. According to a recent statistic released by the World Health Organisation (WHO), Nigeria has recorded 21 cases and eight deaths from the scourge.
Ostensibly to stem the further spread of the virus, a campaign to sensitise Nigerians on the need for proper handwashing as a measure in preventing further spread of the Ebola virus was launched by the Minister for Water Resources, Sarah Reng Ochekpe, in Jabi Motor Park and Wuse  Market in Abuja
Ochekpe, who spoke in Pidgin English, said: "Washing your hands with soap and running water as well as improved personal hygiene are just one of the things you can do to keep yourselves safe from the virus that causes the disease. These are simple but effective measures and we must not underestimate their power in saving lives."
The minister was supported by WaterAid Nigeria's Country Representative, Michael Ojo, and UNICEF's WASH Specialist, Bisi Agberemi, to demonstrate proper handwashing to the crowds gathered.
Speaking at the event, Ojo, charged traders in the market to also avoid open defecation and use the available toilet facilities properly and to imbibe the habit of washing their hands with soap after each visit to the restroom and before eating.
"As we all know, he said, the Ebola virus is transmitted by contact with bodily fluids and discharges so we must all restrict our contact with such secretions," he stated.
Chairman, Mini Bus/Long Journey Jabi Motor Park, Olugbade Olagunju, thanked the minister and other stakeholders, saying: "This campaign has provided us with very useful information. We will spread the news and make sure we do all that is necessary to keep ourselves and those we come into contact with safe and healthy."