The Liberian ambassador to Nigeria, Professor Al-Hassan Conte'h, has spoken about the harassment and discrimination of Liberians living in Nigeria regarding the Ebola virus.
According to Conte'h, since the first case of Ebola brought into the country by Patrick Sawyer, Liberian not deceased, Liberians in Nigeria have been the subject of intimidation, harassment and stereotyping.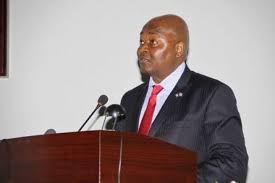 "I would like to appeal for the indulgence of Nigerian authorities. The attention of our embassy has been brought to several cases of harassment of Liberians, especially in Lagos and other places. This harassment bothers on stereotyping, and sometimes expressions of collective guilt," Conte'h said on Thursday, during a media briefing organised by Nigeria's minister of health, Onyebuchi Chukwu.
"I think as we combat this disease; I think we should put in our campaign against Ebola that association is not causation. It is not because the index case came from Liberia, so all Liberians have Ebola. We join you in this fight; Liberia is playing its part. But I like to appeal to you because there are law-abiding Liberians in Nigeria who have been harassed. The some derogatory remarks against Liberians are being made on radio and they have been brought to our attention," he added.
The envoy said the Liberian president, Helen Johnson-Sirleaf has expressed sadness over the the introduction of Ebola by a Liberian to Nigeria, disclosing that the deceased and cremated Liberian was under surveillance in his native country over the virus but managed to find his way to Nigeria.