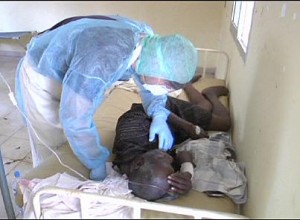 The Lagos State Government must have felt it was doing something grand when, in conjunction with the Federal Government, it announced the provision of life insurance to health volunteers in order to effectively curtail the spread of the Ebola Virus Disease.
In a statement issued today by Jide Idris, Commissioner for Health in Lagos, LASG said the insurance cover is part of governments' plan to protect citizens from EVD infection and has been developed for implementation at all levels.
"To ensure the effectiveness of the response strategy, volunteers are being deployed to support several areas of work, idris said.
Further, the statement said "while volunteering is usually done as a means of giving back to society, the Federal Government of Nigeria and the Lagos State Government have partnered to make available some compensation packages as a means of demonstrating our gratitude for your selfless services.
"The hazardous jobs will have hazard packages that include life insurance."
The government said volunteers are needed in the areas of health screening, community mobilisation, clinical management, contact tracing and infection prevention and control.
For the Health Screening and Community Mobilisation volunteer categories, requirements include an Ordinary National Diploma, Higher National Diploma, or a Degree; while the services of Laboratory scientists, nurses, medical doctors for thespecialized areas such as Clinical Management, Contact Tracing, and Infection Prevention and Control).
But in a swift reaction, the Lagos State chapter of the Nigerian Medical Association has described the medical life insurance cover provided for professional health workers who volunteer to manage those infected by the deadly Ebola virus as vague and lacking details.
At a press conference held yesterday in Lagos, the medical professionals said that the details of the insurance policy were not clearly spelt out.
"Any health worker that is managing an Ebola patient is risking his/her life and that of his family. Ebola has killed over 61 doctors in Guinea, Liberia and Sierra Leone. It is a serious issue," Tope Ojo, chairman of the NMA in Lagos State, said.
He added: "You don't just dangle life insurance without documents. We cannot endanger our lives unless we know what is at stake. We should be assured that should anything happen to us, our families are catered for. The terms of the insurance must be in public domain in a transparent manner."
The mood of the doctors were summarily espoused in Ojo's assertion that "It is sad that it had to take an Ebola outbreak, for government to realise that health workers need life insurance cover."