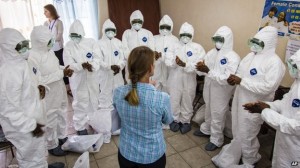 A three-day curfew has begun in Sierra Leone to enable health workers to find and isolate cases of Ebola, in order to halt the spread of the disease.
Many people have been reluctant to seek medical treatment for Ebola, fearing that diagnosis might mean death as there is no proven cure.
A team of 30,000 people is going house-to-house to find those infected and distribute soap.
But critics say the lockdown will damage public trust in doctors.
Meanwhile in neighbouring Guinea, the bodies of eight missing health workers and journalists involved in the Ebola campaign have been found.
A government spokesman said some of the bodies had been recovered from a septic tank in the village of Wome. The team had been attacked by villagers on Tuesday.
US ambassador to the UN, Samantha Power: "It is going to spread to other countries… if we do not dramatically scale up our efforts"
Correspondents say many villagers are suspicious of official attempts to combat the disease and the incident illustrates the difficulties health workers face.
Sierra Leone is one of the countries worst hit by West Africa's Ebola outbreak, with more than 550 victims among the 2,600 deaths so far recorded.
WHO officials say that under the curfew, Sierra Leone's six million citizens cannot leave their homes between 07:00 and 19:00 each day.
After dark, they can go outdoors but cannot leave their area, and shops will remain shut. Earlier reports had suggested that residents would have to stay indoors for the entire lockdown.
'Lives at stake'
During the curfew, 30,000 volunteers will look for people infected with Ebola, or bodies, which are especially contagious.
They will hand out bars of soap and information on preventing infection.
Officials say the teams will not enter people's homes but will call emergency services to deal with patients or bodies.
On Thursday, President Ernest Bai Koroma said: "Extraordinary times require extraordinary measures."
He urged citizens to avoid touching each other, visiting the sick or avoid attending funerals.
Freetown resident Christiana Thomas told the BBC: "People are afraid of going to the hospital because everyone who goes there is tested for Ebola."