Hundreds of farmers protested the Dutch government's environmental regulations on Wednesday, December 18, 2019, blocking streets with tractors, including the border with Germany.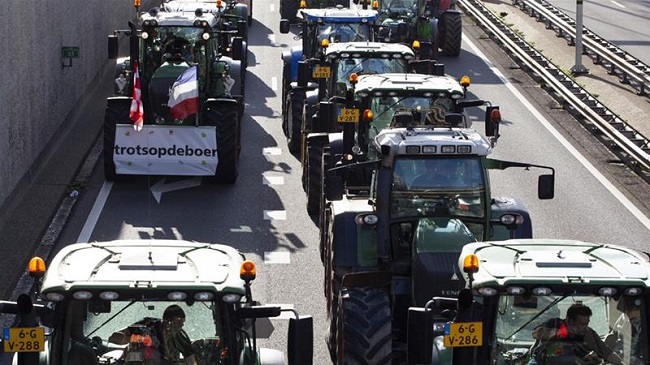 ANP, a Dutch news agency, reported that demonstrations blocked the border crossing between Coevorden, in the Drenth province, and Lower Saxony.
In the Netherlands, the biggest demonstration drew hundreds of farmers to Hilversum, near Amsterdam.
Farmers also drove tractors headed from the Dutch town of Marienvelde into Arnheim and there were further protests near Venlo, in Limburg province near North Rhine-Westphalia.
Around 100 farmers from Germany joined the protests, ANP reported.
The farmers protest that they are unfairly affected by the government's attempts to reduce nitrogen emissions.
The Dutch government has introduced measures to reduce nitrogen following a highly controversial ruling requiring the Netherlands to significantly reduce the pollutants. The government's plans include limiting the expansion of farms adding that cattle farming, in particular, generate large quantities of nitrogen through manure.