Ahead of the country's Independence Day, climate activists in the Democratic Republic of Congo (DRC) are holding actions running from June 27 to 30, 2022, to express their continued opposition to plans for oil exploration in Africa's oldest national park, the Virunga National Park.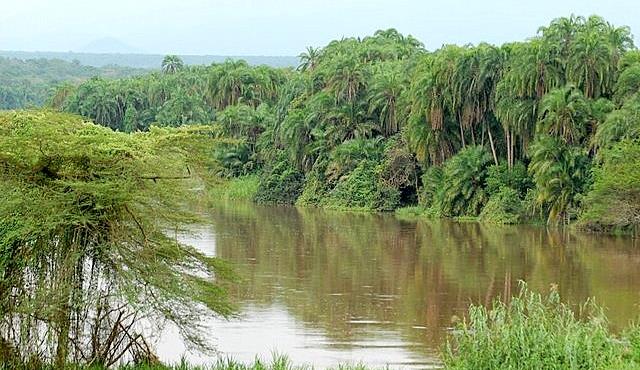 The activists have expressed concern with the risks posed by oil exploration activities to the environment, endangered species of wildlife, and the livelihoods of local communities.
They have also called out the government for plans to auction off 16 new oil blocks, some of which are located in the Congo basin – the second biggest rainforest worldwide and one of the world's largest carbon sinks and most environmentally sensitive areas.
Activists say the government's actions point to a lack of political will to protect the country's sensitive ecosystems, even after a landmark $500m agreement aimed at protecting the Congo basin forest was inked by the DRC President Félix Tshisekedi and UK Prime Minister Boris Johnson at COP 26.
Ahead of the UN Climate talks (COP 27) to be held in Egypt in November, activists are calling for urgent and decisive climate action, which not only requires a halt to plans for fossil fuel exploration, renewed commitment to the protection of local communities's livelihoods and sensitive ecosystems, but also a push for investment in sustainable renewable energy solutions in the country.
The protest actions to be held by the activists will lead up to the nation's 62nd Independence Day, which also marks a year since 350Africa.org released a short film titled "Fossil-Free Virunga", which highlights the dangers posed to the national park and local communities by oil exploration in the area.
Planned actions include protests, watch parties and online actions. Activists from other countries across the continent, among them Kenya, Benin, Togo, Burundi and Uganda, will also hold actions in solidarity with their counterparts in the DRC.
Landry Ninteretse, Regional Director – 350Africa.org, said: "As the Democratic Republic of Congo celebrates Independence Day, there is little to celebrate in Virunga National Park, one of the most biologically diverse areas in the world, which the government opened up to oil exploration activities by issuing licenses to fossil fuel companies. In addition, the government plans to auction off 16 new oil blocks, some in the sensitive ecosystem of the Congo basin.
"Inviting big oil into the Congo Basin is a historic mistake that contradicts the government's ambition of becoming the 'solution' country to climate change and would have devastating impacts on local communities, sensitive ecosystems and the global climate. We urge the government of DRC to act in the spirit of the agreement signed at COP26, to protect the Congo Basin rainforest and millions of people around it. Ahead of COP27, we are calling on the DRC to prioritise climate action by protecting these fragile ecosystems, stopping the issuance of licenses for these harmful oil exploration activities and charting a path to a sustainable energy future for its people."
Justin Mutabesha, Climate activist in the Democratic Republic of Congo, said: "As communities on the frontline of climate change, we know all too well the impacts of fossil fuels to our vulnerable continent. In DRC, we are calling for freedom from these harmful fossil fuel exploration activities, especially in our protected areas, which are destroying our environment.
"We urge the government to act in our best interests as citizens by protecting our environment and creating opportunities that benefit communities' livelihoods and preserve the natural resources in the region. Access to clean energy is an integral part of sustainable development and commitments to mitigate climate change should be driving efforts to develop sources of alternative and renewable energy."
Edwin Mumbere, Climate activist based in Uganda, said: "As we stand in solidarity with our comrades in the DRC, calling for a Fossil-Free Virunga, we are making a plea to African nations to accelerate plans to bring an end to dirty energy and protect sensitive ecosystems. If we are to avert catastrophic climate impacts, our leadership must leave no room for fossil fuels, but instead accelerate the just transition to renewable energy on our continent.
"Additionally, developed nations, which have historically contributed and are still contributing the most to climate change due to their fossil addiction, must support African nations to make this transition and pay for damage caused to our continent by their polluting practices."