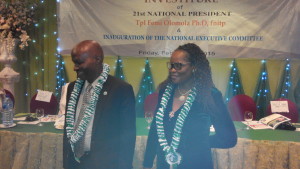 The 21st president of the Nigerian Institute of Town Planners (NITP), Dr Femi Olomola, has unfolded a seven-point programme that he intends to implement during his tenure. He made the disclosure last Friday in Lagos during an investiture ceremony to usher in the group's new National Executive Council (NEC).
According to him, the schedule entails:
Law & Constitutional Matters
Promoting National Security & Reducing Fraud
Improving the Asset Base of the Institute
Improving Current Operational Modalities
Need for NITP Strategic/Master Plan
Sustaining Human Capital Development, and
Extensive Publicity & Public Enlightenment on the Value of the Profession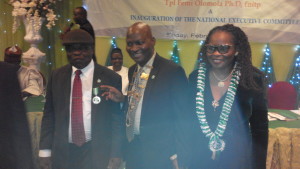 The first item, for instance, will take stock of the near-zero implementation of the Nigerian Urban & Regional Planning Law in states and at the federal level, ensure a 100 percent commitment to the implementation of the provisions of the institute's constitution, promote internal democracy, and overhaul the operational modalities of the examination board and professional development programme.
While item Two will be realised via the introduction of a Land Use Planning Report prepared by Registered Town Planners that shall accompany several applications, item Three involves the completion of the body's Bawa Bwari House in Abuja, and on-going renovation of Franklin Akinyemi House on Victoria Island in Lagos.
President, Town Planners Registration Council of Nigeria (TOPREC), Prof. Layi Egunjobi, in a goodwill message, urged Dr Olomola and the Exco members to "exhibit your educational and professional training acquired over the years for effective and purposeful leadership to advance the course of the profession."
He adds: "I urge you all to remain focused and let discipline and many of your good moral conduct be your watchword, you are expected to conduct yourself with decorum and high sense of discipline as ambassadors of the Institute."
While listing achievements during his reign, the immediate past president of the NITP, Chief Steve Onu, thanked the officers that worked with him.
"To the elected executive members, I want to thank you for your services. To our staff, I want to thank them for their support and hope they will show more commitment to the Institute with the current leadership," he says.
A past president of the Institute and chief executive of Frontline Consultants, Remi Makinde, congratulated Olomola, saying: "We note with pleasure your records of service to the Institute at the Lagos State Chapter where you rose to the post of the Chapter Chairman before you sought for elective positions of the 2nd and 1st Vice Presidents at the National Level.
"You willingly and successfully participated at several Committees at the State and National levels over the last 25 years as a demonstration of your willingness to serve our institute and lift the Profession of Town Planning to greater heights.
"We therefore have no doubt that you will carry out any restructuring necessary to facilitate your ambition to raise the Institute to greater heights."