Prof. Johnson Adewunmi of the Department of Agricultural and Bio-resources Engineering, College of Engineering, Federal University of Agriculture, Abeokuta (FUNAAB), has charged the Federal Government to help farmers put in place effective conservation measures at mitigating flooding on farmlands.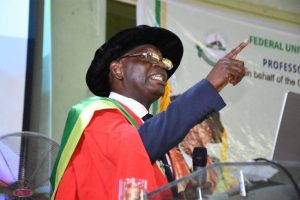 Adewunmi stated this at the 76th Inaugural Lecture of FUNAAB, held at the institution premises in the Ogun State capital.
Adewunmi said this could be done through extension agents in the ministries and local governments.
He spoke on the topic: "Soil and Water Dynamics as the Eleventh Commandment".
According to him, the prevailing patterns of agricultural production in Nigeria, particularly in the most affected areas by flooding need, to be critically reviewed by the federal government.
Adewunmi added that local farmers affected by flooding should be trained in the area of water harvesting techniques.
The don reiterated that using water harvesting techniques would increase farmers' productive capacity under a combination of excessive demographic pressure and unsustainable agricultural practices in the valley areas prone to flooding.
Adewunmi noted that for any sustainable effort, irrigation project must be made to be participatory, saying this would encourage local assistance, which produces sustainable impact over the long term.
He added that the federal government must, out of goodwill, release grants for rehabilitation of these projects for onward privatisation and joint management for all River Basin Development Agencies (RBDAs).
Adewunmi, however, revealed that the conflict between farmers and herdsmen had been recognised as a serious socio-economic factor that could affect production and productivity of any scheme.
He urged the government to establish grazing areas for farmers that were not under RBDAs.
By Abiodun Lawal