Setting up a hydrogen industry is a long-term project for the "last mile" of decarbonisation. The priority in the short- to medium-term is to further expand renewable energies, also as a prerequisite for the production of green hydrogen, to promote energy efficiency, shift to more environmentally friendly modes of transport and improve transport efficiency.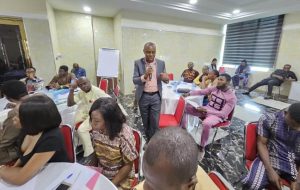 Head of the German-Nigerian Hydrogen Office, Gina Elisa Lagunes Díaz, made this submission during a capacity building workshop held in Abuja on Tuesday, May 9, 2023, to explore opportunities, risks and emerging issues for green hydrogen production in Nigeria.
Diaz said the energy transition would significantly affect fossil fuel producers where total oil and gas export revenues are expected to fall significantly by 2050, noting that some countries already have initiatives in place to diversify their exports such as the Nigerian Export Expansion Facility Programme.
Head of the German-Nigerian Hydrogen Office also noted that there are shifts in the value of trade in energy commodities from 2020 where there is demand for oil, coal, gas, methanol and electricity valued at $1.5 trillion to 2050 where it is projected that there will be high demand for oil, gas, electricity, ammonia, methanol, hydrogen and bioenergy expected to worth $1.6 trillion.
"By 2050, the annual demand for green hydrogen will increase by 400 million tonnes, in this scenario the electricity demand to produce hydrogen will reach close to 21,000 terawatt hours, almost the level of global electricity consumption today," she stressed.
According to her, "by 2050, technical potential for producing green in North America, Latin America, Europe, Sub-Saharan Africa, South-East Asia, North-East Asia, Oceania, Middle East and North Africa will be under $1.5 per kilogramme."
Diaz, who noted that currently there are no hydrogen dedicated policy and regulatory frameworks currently in force in Nigeria, however called on the policy makers to make provision of clear and comprehensive policy and regulatory framework that will provide investors and project developers with clarity and indications to guide their activities.
In her remarks, the Chief Executive Officer, Clean Tech Hub, Ifeoma Malo, while looking at "Hydrogen Potentials and Pitfalls", disclosed that green hydrogen could sustainably industrialise Africa and boost GDP by 6 to 12% in Egypt, Kenya, Mauritania, Morocco, Namibia, and South Africa.
She said despite its potential channels for community development in communities hosting green hydrogen plants, it is an avenue for the creation of direct and indirect jobs, it is a greater access to electricity via renewable energy and greater access to clean water if hydrogen plants integrate water management systems.
Malo, who cautioned that green hydrogen is still more expensive than blue hydrogen, however advocated for the promotion of its domestic utilisation.
The CEO of Clean Tech Hub also advocated for locally driven and inclusive development of national hydrogen policies and regulations, strengthened oversight institutions and mechanisms against methane leaks and other environmental and health hazards.
"Hydrogen plants should be mandated to have community development plans for sharing electricity and water resources. Alliances between oil and gas civil society and hydrogen civil society is also very important," she stated.
In his reaction, Executive Secretary, HEDA Resource Centre, Mr. Sulaiman Arigbabu, said green hydrogen would be a great benefit and opportunity for Nigeria and Africa as a whole.
"Nigeria just need to be very careful so that we would not be raw material for another source of energy to power industrialisation in the other parts of the world," he warned.
Executive Director, Environmental Rights Action, Dr. Godwin Uyi Ọjo, was sceptical about the whole process especially in relation to the oil and gas sector.
He said: "Giving the level of impact and low benefit, level of poverty generated for the common man in Nigeria also looking at how the host communities have suffered for decades with no tangible benefits, it is doubtful if green hydrogen economy is of any benefit to Nigeria because Nigeria is poised to continue the oil and gas development, already revenue is dwindling from the oil and gas uptake.
"For green hydrogen to be developed mainly for the external market will hardly benefit Nigeria because doing direct investment is working at the behest with the countries and company driving them. Secondly, the issue of community driven energy in terms of solar and renewable appears to be displaced by the green hydrogen if it comes to stay, the fact that most green hydrogen will be developed by renewable is questionable, so these are the issues I think it's not beneficiary in the Nigeria context."
Stakeholders in the climate change industry that participated remotely included Head of International Politics Division of Henrich Boll Foundation, Jong Haas; PhD candidate from London School of Economics, Gabriela Cabana; the Executive Director, Health of Mother Earth Foundation, Nnimmo Bassey; and Author of Green Hydrogen, Della Viliagrasa.
Several civil societies organisations practitioners participated in the workshop and capacity building workshop organised by the German-Nigeria Hydrogen Office, including Titi Akosa of C21st Century Issues, Oghenegare Eyankware of Order Paper Initiatives, and Umo Ikoh, Coordinator, Peace Point Development Foundation, among others.
By Ajibola Adedoye