A reduction and waste recycling organisation, Ecobarter, has trained 20 Internally Displaced Women (IDW) on how to turn plastic waste into valuable household products as part of efforts to promote environmental and economic sustainability in Nigeria.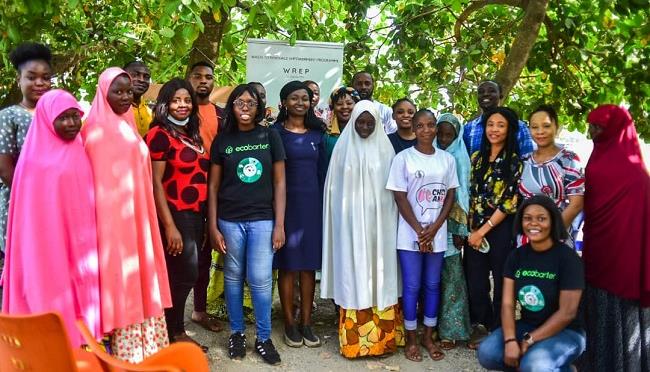 On Saturday, December 4, 2021, during a graduation ceremony and exhibition exercise it organised in Abuja, the entity also canvassed that households should be made to see waste as raw materials and mandate them on how to properly sort wastes to improve their economic significance.
The event brought together different actors across the development community to witness some of these products such as shoes, bags, earrings, jewelry, mats, and pocket wallets that were all made from plastic waste. Also, it served as a platform for these items to penetrate the market so that those involved can earn and be encouraged to stay in business.
How people perceive waste is a major challenge that the waste management group believes both state and non-state actors must come as one to address because a lot of them still don't understand its importance.
"And that is why there is this initial rejection even from the women we train," says Rita Idehai, founder of Ecobarter.
She narrated that even though these women were jobless, they still had to battle with the societal stereotype towards waste until they started to see its actual worth.
This gap, according to her, must be bridged with actionable government policies to help redefine the public perception on waste. These actions are necessary to remove the impediments of trying to educate and assist people to understand the benefit of effective waste collection and recycling to motivate the required acceptance.
While disclosing her organisation's plan on how to move the initiative forward, the eco-champion hinted that her company would leverage the media particularly online to showcase their products, increase the number of the beneficiaries, as well as carry out quarterly exhibitions to showcase their items and interface with the public.
Speaking on their partnership, the Programmes Officer at World Connect, Vanessa Adebayo, explained that her organisation supported the project because of its conviction of the ecological and economic benefits not only to the beneficiaries of the empowerment scheme but also to the entire public that the products are made for.
She said with the successful implementation of this phase of the project, her organisation would like to see more resources mobilised to increase the number of persons trained and help others outside to see the value in these products.
As the project continues to grow, she said it is important to start thinking of how these people are been impacted mostly at the grassroots because they are usually the drivers of these solutions that are currently been advocated.
"We want to make sure that the people you are trying to benefit are also equally involved in the process to make sure that they buy into what it is that they are doing," Vanessa said, "because if they don't believe in it, who else will?"
One of the participants and founder of Hobeei, Mariam Eluma, while expressing satisfaction over the programme, said the project would help enhance public awareness on the true value of waste and encourage more innovation in the sector.
"I am as well looking forward to this hitting not just the local but also the international market for them to see what we are capable of doing," she concluded.
By Etta Michael Bisong