Save the Children, an international Child Rights Agency, has said that the children in sub-Saharan Africa displaced within their home countries by climate-induced disasters nearly doubled in 2022.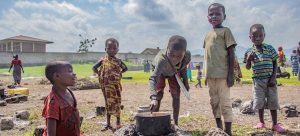 In a statement by the agency, made available to newsmen on Monday, September 4, 2023, in Lagos, policy makers are meeting from Monday at the Africa Climate Week, opening in Nairobi, Kenya, to discuss solutions to the climate crisis.
Relying on a data from the Internal Displacement Monitoring Centre, the agency said no fewer than 1.85 million children in sub-Saharan Africa were left displaced within their countries by climate shocks at the end of 2022.
The figure was compared to one million children left displaced by similar crises in 2021.
The agency noted that some of the children displaced either once or multiple times, all remained in that situation at the end of the year, living in camps, with extended family, or other temporary arrangements.
According to the report, as a result of flooding in Borno State and across other parts of the country, Nigeria has the highest number of climate-induced internally displaced persons in Africa.
Specifically, the report put the figure of climate-induced internally displaced persons in Nigeria at 2.4 million.
"By the end of the year, at least 854,000 people remained displaced by these shocks, including an estimated 427,000 children," the report said.
The report stated that Somalia has the second highest number of internally displacements as a result of five failed rainy seasons which forced about 6.6 million people – or 39 per cent of the population into critical levels of hunger.
In the report, internal displacements in the year in review, due to such disasters, was also three times higher than the previous year.
"This is the highest annual number of new displacements from climate disasters ever reported for the region.
"These figures lay bare the stark reality that the rights of children across the region are being eroded at an alarming rate by the impacts of the climate crisis,'' it stated.
The report, however, showed that countries on the continent have contributed the least to the crisis, with the smallest share of global Green House Gas (GHG) emissions of all the world's regions.