Disaster risk management experts, who met last week in Lagos, have set out to develop a unified nationally identified model for developing capacity at the grassroots level.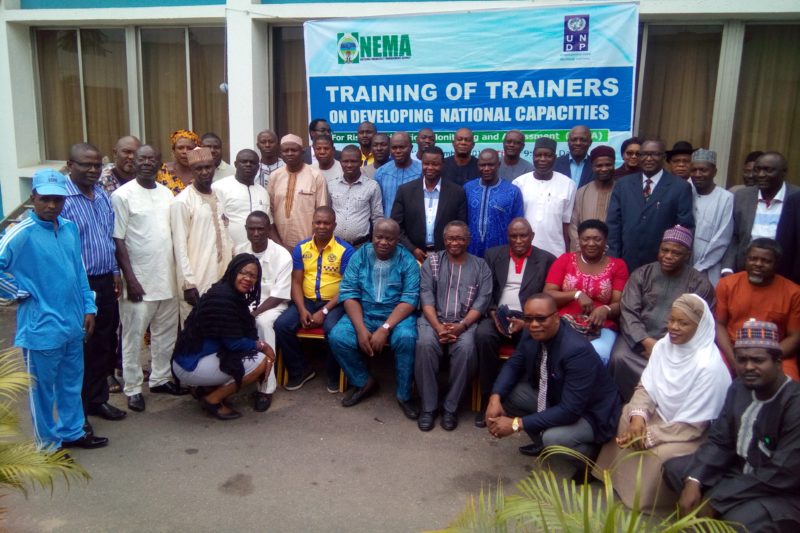 The two-day gathering (from Wednesday, September 6 to Thursday, September 7, 2017) was was originally designed as a Training of Trainers (TOT) for developing national capacities for Risk Identification, Monitoring and Assessment Monitoring (RIMA). But certain unforeseen developments, such as the inability of the Project Technical Adviser to be present at the event, informed a slight adjustment to the focus of the workshop.
Consequently, participants resolved to draft a training manual, conduct a training session, and develop a unified teaching model.
Several years ago, the National Emergency Management Agency, (NEMA) with the support of the United Nations Development Programme (UNDP), commissioned a study to, among others, develop:
A guide for RIMA conduct
A programme for developing National Capacity and Capability in RIMA, and
A country-wide action programme for undertaking RIMA.
In the bid to operationalise the process, stakeholders are meant to standardise National Core Technical capability in RIMA – a major anchor to the workshop.
The meeting featured representatives of six national centres of excellence for Disaster Risk Reduction (DRR),which are recognised as the potential regional hub to facilitate the RIMA training in each geo-political zone.
The centres include: University of Maiduguri (North East zone), Ahmadu Bello University, Zaria (North West), Federal University of Technology, Minna (North Central), University of Nigeria, Nsukka (South East), University of Port Harcourt (South South) and University of Ibadan (South West).
"Each of the universities has a centre for disaster risk reduction and management, and we intend to use the centres to reach out to communities in their respective regions, in the light of the fact that they are already experts with ready –made technical capacity," said Benjamin Oghenah, Deputy Director, Disaster Risk Reduction at NEMA.
He added: "We are now developing one unified model to be used nationally, both in content and methodology, that can be applied across the nation through these centres while utilising the peculiarities they face in their specific regions.
"We are hoping that the UNDP will provide the support so that each centre will now go back to the states within their region and undertake the RIMA."
Oghenah disclosed that, apart from the DRR centres of excellence, State Environmental Management Agencies (SEMAs) of Kaduna, Lagos and Bayelsa also attended the workshop "to observe what is happening and give a critique".
"Bayelsa SEMA complained of funding constraints," he said, remarking that disaster risk management is now taking global attention, and that the emphasis is more on risk management than the hazard.