The Joint Association of Persons Living with Disabilities (JONAPID) in Lagos has said that as long as disabled people continue to shun reproductive health services available at hospitals, the country can't have significant improvements in its current health indicators.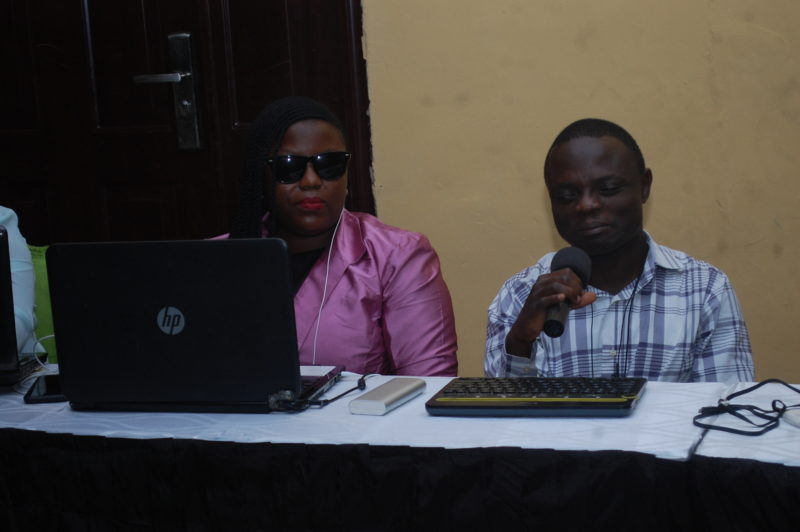 This submission was made at a recent media training in Lagos organised by Journalists Against AIDS (JAAIDS) and the Nigeria Association for the Blind.
"Persons with disabilities (PWD) seldom use public healthcare facilities," says Ms. Olayide Akanni, executive director of JAAIDS. "From a focussed group discussion we conducted amongst this group, we find stigmatisation, lack of privacy and confidentiality, disability insensitivity attitudes of health workers, continue to push this group out of the hospitals to self-medication and herbal homes."
According to the World Health Organisation (WHO), there are 25 million disabled people in Nigeria. A global estimate shows that there is a growing vulnerability amongst this group to HIV infection. Contrary to popular myths, PWDs are as sexually active as their non-disabled peers, yet they are less likely to receive information about safe sex, and to have access to prevention methods. This group are also most likely prone to sexual abuse, exploitation and rape. Thus if they remain excluded, the rise in HIV amongst this group will ruin the overall success of AIDS control in Nigeria and other sustainable development goals, experts warn.
Sharing her experience at the training, Ms. Folasade Salimonu, a producer at the Lagos Television and a member of JONAPID, says: "My friend is blind and married. She has had three unplanned pregnancies because the family planning method she chose failed. The day she went to the hospital, the nurses were commenting on how pathetic for a blind woman to incur more problems for herself by getting pregnant! At her neighbourhood too, she had been called shameless for getting pregnant despite her condition (in her matrimonial home). So she stopped antenatal visit to the hospital and continued in a traditional medicine home!"
Ms. Ejiro Okotie, a member of the National Association of the Blind, says, "That a person is living with a disability does not mean he/she is sexually disabled."
Quoting the Universal Declaration of Sexual Rights, she adds: "The14th World Congress of Sexology (Hong Kong, 1999), adopted 11 sexual rights which includes the right to sexual freedom, privacy, equity, pleasure among others.
Article 5 on the Convention on the Rights of Persons with Disabilities summarises that such persons enjoy all human rights and fundamental freedoms on an equal basis with others.
In her submission, Ms. Akanni states: "We see that they need to be enlightened on Sexual Virility/Libido; Management of Sexually Transmitted Infections.
"A blind man may not know how to wear a condom properly and thus prevent HIV and other sexually transmitted infections. He is stigmatised when he walks to a shop to ask for one. A blind person may not be able to read the instruction on the body of a medicine because most drugs in Nigeria are not written in braille. A deaf/dumb woman may not know how to express her need for a family planning commodity to an overworked nurse, who is already touchy because she has loads of able-bodied patients to attend to.
"These are real barriers hindering PWDs' ability to increase their uptake of such devices, thus the Lagos State Government can't meet our needs," Dr. Adebukola Adebayo, secretary of JONAPID, Lagos Branch, laments.
A related study assessing disability-sensitivity and inclusiveness in Lagos hospitals reveals that only the Lagos State University Teaching Hospital (LASUTH) provides sign language interpreters for deaf patients and a few social workers to assist other PWDs with mobility and visual disabilities. It also provides minimal accommodation for persons with disabilities.
The others – over 30 General Hospitals in the state and Primary Health Centres – totally exclude this group.
They thus recommend that educating PWDs on their rights is a way forward. A second most important factor entails including in academic curriculum for all health workers, a training on disability sensitivity. At hospitals, special sections should be designated for PWDs and also place professional interpreters.
"Enabling structures should be put in place to assist PWDs in different capacities (e.g. building ramps for persons on wheelchairs . Attention should be given to Braille descriptions on drugs," Ms. Layide adds.
By Abiose Adelaja Adams