The Lagos State Government has placed an embargo on the approval for construction of filling stations in all parts of the state till further notice.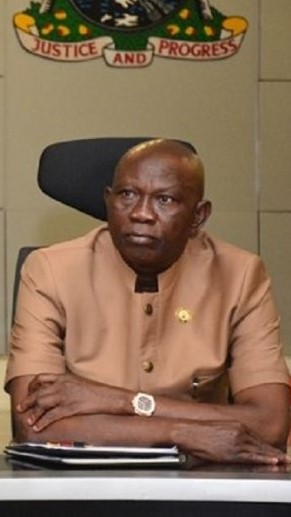 Similarly, the authorities have said a definite action will soon be taken on indiscriminate construction of event centres across the state.
Commissioner for Physical Planning and Urban Development, Wasiu Anifowose, disclosed this on Tuesday, April 25, 2017 at the ongoing Ministerial Press briefing in Alausa as part of activities marking the second-year anniversary of the Governor Akinwunmi Ambode administration.
Anifowoshe, a town planner, said government had already resolved not to grant construction permit for filling stations pending an inventory on existing ones.
Responding to issue of oil spillage in Alimosho, Anifowose said the decision of government was necessary in view of the need to take proper inventory of the existing filling stations to determine those that should be removed, all in a bid to ensure public safety.
He said: "What happened in Alimosho was because of pipeline vandalism. If people have not been greedy to vandalise pipeline, we will not be seeing what is happening.
"But be rest assured that no permit will be granted for filling stations in Lagos State till further notice.
"I have told the General Manager of the concerned agency, and the management team of the agency has taken a decision and we will not grant any approval until we take inventory and see what we have."
Anifowose, who is also an architect, said government was also working with the Federal Government to relocate Tank Farms in residential areas in Apapa, adding that a definite pronouncement would be made in that in regard in due course.
The Commissioner also warned owners of structures under high tension cables to relocate in their best interest as government would spare no effort in removing such illegal structures, adding that event centres illegally located would also be demolished.
He said: "When this government came on board, what we did was that we set up a Committee and they are going round the state to take inventory of event centres.
"I like to state categorically that any development that does not comply with the Master Plan of the area of location will be removed.
"So, our agency is already working on it and they should be able to give us report in the next three to four weeks."
Speaking on activities of the Ministry in the last one year, Anifowose said that, due to proactive steps and reforms initiated, government, in the period under review achieved considerable reduction in building collapse, and reiterated that it was still an offence in the state for any physical developments including renovation, fencing, demolition and so on to be embarked upon without approval.
He said: "I must urge all Lagosians to partner with the state government in reporting illegal developments and developers or owners of buildings who cut corners and use substandard materials in construction work.
"Furthermore, it is considered a necessity that prospective buyers or tenants should demand for the Planning Permit or Layout Approval of a building or estate respectively before down payments are made, to deter developers or owners from circumventing the law."
Besides, Anifowose said during the period under review, a total of 5,499 structures were served with Contravention and Stop Work Notices, while between May 2016 and February 2017, a total of 2,340 plans were submitted and out of which 1,078 were granted Planning Permits.
Also, 242 applications for Planning Information were received, 174 approved, while others were being processed.
In the last 23 months, the Commissioner said 30 provisional layout approvals were granted and 28 final layouts, while government embarked on preparation of development guide plans in Igborosun Excised Village in Badagry, Ikola-Odunsi in Alimosho and 13 Excised Villages were granted Approval-in-Principle within Ikorodu, Ibeju-Lekki and Eti-Osa.
He said aside the fact that government has paid compensation on properties demolished for right-of-way for major projects, efforts are also ongoing to relocate Computer Village in Ikeja to world class ICT Park, Katangowa in Agbado/Oke-Odo, while efforts are in top gear to relocate Mile 12 Market to Imota and Okobaba Sawmill to Agbowa.