Unprecedented flooding continues to devastate Pakistan, killing over 1,000 people and affecting over 30 million people since June.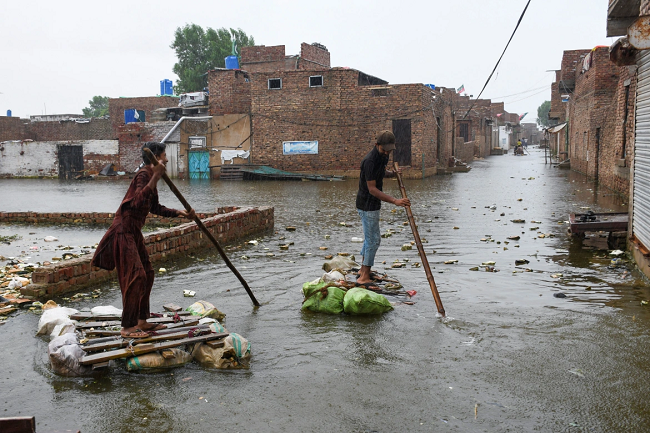 This "monster monsoon", according to observers, was supercharged by the climate crisis, and spurred on by the continued burning of fossil fuels.
As communities in Pakistan race to prevent further damage, floodwaters threaten to cover a third of the country by the end of the season.
Rains that were meant to irrigate crops and replenish water supplies are currently 600 per cent higher than average in some South Asian regions, turning a welcome relief into a wave of destruction.
Anam Rathor of Climate Action Pakistan says: "Pakistan is drowning. The recent cataclysmic floods triggered by unprecedented monsoons and glacial melting are caused by climate change and have devastated my country. My people, who already have so little, struggle every day to survive in this colonial, capitalistic, patriarchal world, yet they lose more by no fault of their own. We are losing lives, livelihoods and dignity just so fossil fuel billionaires can profit more."
This year's IPCC climate impacts report stated that monsoon precipitation in South Asia will increase if global temperatures continue to rise beyond 1.5 degrees celsius.
Stakeholders believe that now is the time for those most responsible for the crisis to step up and act. They want the rich countries to honour their commitments to phase out fossil fuels and assist nations like Pakistan with recovery from loss and damage caused by the climate crisis.
Shibayan Raha, 350.org South Asia Senior Organiser, says: "The scale of devastation in Pakistan is caused by climate breakdown, poverty and inequality. Climate action must go hand in hand with development if frontline communities are to have a fighting chance at a liveable future. While leaders debate emissions limits in conference rooms, the floodwaters will continue to rise.
"These catastrophes will not stop while the world waits to act, so any financial pledges to reduce carbon emissions must also include adaptation measures for countries like Pakistan."