Leaders and experts in the field of climate change, renewable energy and digital storytelling were recently hosted at a Tech Innovation Boot Camp convened by Connected Advocacy, a non-governmental organisation (NGO), and hosted by the University of Benin, Benin City, Edo State.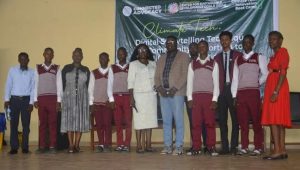 Mrs Etinosa Anthonia Ogbe-Aiwanfo, representative of the registrar of the university, in her welcome speech, outlined the importance of engaging the university community in such a critical global issue as climate change.
"I feel privileged to be addressing such a devoted and enthusiastic group of people who are committed to addressing the issues associated with climate change. We must act to reduce its effects and build a sustainable future for present and future generations because, as we all know, climate change is one of the most urgent problems facing our planet right now."
The host, Prof. Mrs. Ujiro Igbudu, Director, SDG Desk office, University of Benin, said that all must be dutifully involved in pushing for a net-zero ecosystem by 2060.
"Unfortunately, a handful of people are not interested or involved in pushing for climate-friendly technologies, due to low awareness but a few are pushing for these cutting-edge technologies to increase locally mitigative action. This maiden edition of the Climate Tech Innovation Boot-Camp is very timely, owing to the myriad of issues being precipitated by global warming or climate change. This event is specially initiated towards galvanising us to embrace climate technologies for a better and safer ecosystem to live in."
The event convener, Prince Israel Orekha, Executive Director, Connected Advocacy, attempted a preview of the event, which is aimed at bridging the gap between traditional climate change activism, innovative tech and advanced technology approaches in creating lasting solutions to climate crisis at every level.
He said tackling climate change required a collective effort from local to global levels, and that the use of technology would help increase local performance.
"It's imperative at this point that technology will help play a great role in mitigating the climate crisis, this was what initiated the Nigerian Climate Tech Innovation Boot-camp 2023. This boot-camp has develop a web portal called Naija Climate Matters (www.climatematter.org), where visitors can share their findings, breakthrough solutions, and information on the impact of climate crisis as it affects your local communities, and document loss and damages that have occurred for prompt action."
The first speaker, Mr. Babawale Obayanju, Co-Founder of Tell That Story, spoke extensively on leveraging digital storytelling and innovative technology solution in addressing climate change at every level of endeavour, whether at the level of policymaking, development of digital solutions within and outside the university community.
Robert (Bob) Tiptons, Founder of Dark Sky Innovative Solutions and author, OroAzul Proposal, also spoke extensively on climate change and technology. He dwelt further on the use of technology to drive the process of adapting to renewable energy technologies for a safer world.
Samuel C. Okorie, Communication and Policy Advisor, GLOBE, spoke on Loss and Damage occasioned by greenhouse gas. He further highlighted the different losses and damages caused by climate change.
Mr. Sunday Asije also spoke on climate technology: enhancing just energy transition and opportunity for green innovative jobs for youths.
Mr. Aisosa Osawaru crowned the event with a speech on why we need to start now and the need to give discount to every participant registering for his forthcoming personal development hangout.
According to the promoters, the event was an expository one, because it served as an eye-opener to all the participants on how they can solve the most pressing challenge facing our climate with the most powerful, but underused tool in our pocket (such as the mobile phone) to tell environmental stories in every way humanly possible.