The Federal Ministry of Environment on Wednesday, July 12, 2023, rolled out revised policy guidelines on the exportation of processed wood and charcoal as part of its measures to effectively manage the nation's forest resources.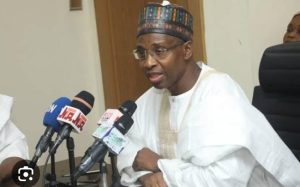 Alhaji Ibrahim Idris, Permanent Secretary, Ministry of Environment, said this at a two-day workshop in Abuja.
The workshop sought to moblise stakeholders for the implementation of Policy Guidelines on Export of Processed Wood and Charcoal and the domestication of Nigeria Timber Legality Standards.
He said that the revised policy guideline makes it mandatory for the players in the wood industry particularly wood exporters to establish forest plantations of their own.
Idris also said that they must also show proof of commitment to continue to plant trees.
"I urge as many of the exporter groups that are yet to establish their plantations to as a matter of urgency, do so and identify with us on this noble cause.
"This workshop is aimed at discussing strategies for sustainable utilisation and management of the nation's forest resources.
"So that investors, individuals, companies, exporters and other players in the wood and charcoal business comply with the laws, rules, guidelines and policies of the various states and the Federal.
"The ministry has observed the propensity of some exporters to use fake certificates. I call them to desist from such act," Idris said.
He commended the complementary efforts of some wood and charcoal exporters associations for tree plantation projects.
Idris urged stakeholders not to relent in the ongoing efforts at increasing the nation's forest cover and contributing to global emission reduction and climate change mitigation.
"I, once again, encourage you all to get acquainted with the guidelines as well as to adhere strictly to the Nigeria Timber Legality Standards .
"This is to avoid penalties for defaulting which may include being blacklisted from the wood export business.
"It is instructive to note the alarming rate at which the forests are being exploited with the attendant irreversible social, economic and environmental consequences.
"We cannot afford to continue to drift on this dangerous path, there is an urgent need for collective and proactive actions," he said.
Idris said that man's survival largely depends on how forests are managed.
"As we all know, without forests there can be no timber, charcoal and other allied products to trade.
"Therefore, managing these forests sustainably is vital for the sustenance of the wood-based trade and for sustainable environment for the provision of social services for man's survival.
"All hands should thus, be on deck to ensure continued provision of these services via sustainable management of the forests," the Permanent Secretary said.
Idris said that appropriate steps had been taken to ensure that processed wood and charcoal export activities do not impact negatively on the nation's forests.
Earlier, Director, Forestry, Federal Ministry of Environment, Mrs Hajara Sani, said the workshop marked a new paradigm where actions taken in ignorance by anybody would not be condoned.
"With the conditional lifting of the ban and suspension of export of charcoal and wood respectively, it is absolutely necessary that stakeholders meet to discuss implementation strategies of the Policy, Guidelines on Processed Wood and Charcoal.
"Also, there is need for the domestication of the Nigeria Timber Legality Standards for efficient utilisation and effective forest management before the commencement of export of these products," she said.
By Abigael Joshua