Leaders of the Shipibo indigenous village of Santa Clara de Uchunya, accompanied by their representative organisation FECONAU, filed a constitutional law suit challenging Peru's regional government authorities for failing to secure legal protection of their traditional lands and enabling its acquisition and clearance by an international agribusiness company.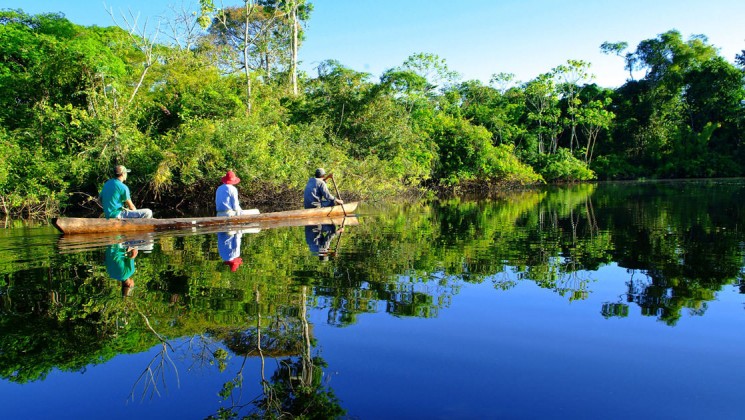 Plantaciones de Pucallpa SAC, an agribusiness company affiliated to the Melka commercial group, appears to have begun acquiring the lands since 2012. Since that point, satellite images show that more than 5,000 ha of forest have been cleared to pave the way for an oil palm plantation.
The lawsuit argues that these actions violate indigenous peoples' collective property rights over their traditional and customary lands. These rights, which exist and are legitimate irrespective of whether or not their lands are titled, are protected by Peru's constitution and under international human rights law, which is obligatory for the Peruvian government.
The lawsuit describes a process over many years through which the Peruvian government failed to legally secure the lands of Santa Clara de Uchunya, but then also enabled acquisition by individuals claiming occupation rights who it appears then subsequently sold their plots to Plantaciones de Pucallpa. Unfortunately, this sort of irregular accumulation of land is widespread practice throughout the Peruvian Amazon. A 2014 report by national indigenous organisation AIDESEP has identified more than 1,200 communities vulnerable to land grabs whose legal land titles remain outstanding. This lack of legally-secure land rights is facilitating widespread conflict over lands, forests and resources.
The community has been denouncing and campaigning actively against the operations of Plantaciones de Pucallpa and has engaged energetically with local and national authorities with mixed success. In September 2015, the Ministry of Agriculture ordered the suspension of the operations on the grounds that Plantaciones de Pucallpa had none of the authorisations and environmental certificates and assessments required by the Peruvian government before clearing forest. Since then, however, the operations appear to have continued as verified by a recent field visit to the plantation site by Ministry of Agriculture officials, which was captured on video.
Meanwhile, community members have been promised by local officials that the titling of their traditional lands is being processed. However, at the same time, communities point out that the illegal practice in which their lands are issued by local authorities to third parties without their Free, Prior and Informed Consent continues. In December 2015 the community found out that a further 17 plots of land in their traditional lands extending to more than 200ha had been allocated to individual farmers by regional authorities. In this case they managed to file an immediate appeal and an administrative process remains pending. Prosecutors visiting the area on 5th and 6th May confirmed that there was no evidence that would support the farmers' claims.
Leaders of the community and representatives of the organisation FECONAU, describe a growing sense of fear as their denunciations and campaigning are triggering a growing backlash, apparently stemming from Plantaciones de Pucallpa and their supporters. This has manifested itself in a campaign of defamation in local media relying on unsubstantiated accusations that community members have burnt down houses of local farmers as well as anonymous death threats for individual leaders.
Joel Nunta Valera, President of the community, said: "There are outsiders coming here who are threatening and intimidating members of the community and sowing fear and disquiet. This is in revenge for the various denouncements and other actions taken by the community in defence of its territory."
Community leaders and representatives report that there have been strangers arriving in the village at night who are armed and masked and asking for the whereabouts of their leaders. Meanwhile, these threats have escalated since an official delegation of Peruvian environmental prosecutors conducted a field visit in the area on the 5 and 6 May 2016 and confiscated chainsaws and detained individuals found to be felling trees without permission.
Robert Guimaraes, president of FECONAU, reports that he is in fear of his own life and for the lives of the leaders of Uchunya: "The threat of death is very strong and smouldering. Residents of the community have literally been told by people in the nearby town of Requena 'Take care because we are going to kill your leaders and if we do not manage to do your leaders in, then we will kill anyone from Uchunya itself, we have a list'.
"We must have protection from the authorities; we plead for the intervention of international human rights agencies."
Plantaciones de Pucallpa is one of many companies registered in Peru with links to a complex corporate network apparently controlled by US-Czech businessman Dennis Melka and known collectively in Peru as the 'Melka group'. Mr Melka founded the Malaysian agribusiness company Asian Plantations.
Melka group companies in Peru, including Cacao del Peru Norte SAC and Plantaciones de Ucayali SAC and their parent companies United Cacao Ltd and United Oils Ltd, have attracted similar accusations of illegal deforestation and land conflict. On 4 May 2016 a formal complaint was submitted to the Alternative Investment Market (AIM) on the London Stock Exchange highlighting the multiple violations of Peruvian law by United Cacao Ltd and requesting their delisting from the AIM. On 24 May, Peru's National Forest Authority (SERFOR) issued a statement clarifying unequivocally that Cacao del Peru Norte SAC have engaged in unauthorised deforestation and have urged the AIM to hold them to account. The statement is important because it establishes clearly that the arguments used by United Cacao del Norte and its sister companies, including Plantaciones de Pucallpa, that they have operated within the law are unfounded.