From the pace of climate action to saving the oceans, world leaders had plenty to say about the environment during the World Economic Forum's Annual Meeting 2018 in Davos. Jahda Swanborough, Lead, Environment Initiatives, World Economic Forum, recalls the key moments from the week-long forum, which held from January 23 to 26, 2018 in Davos-Klosters, Switzerland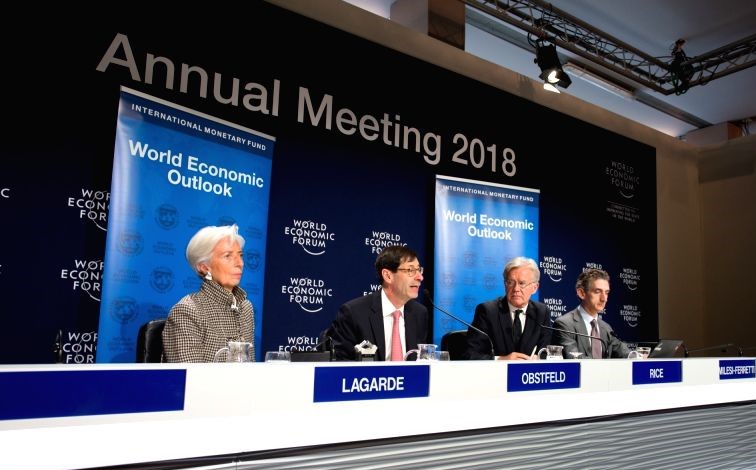 The greatest threat to civilisation
As leader of the fastest growing major economy in the world – as well as the world's largest democracy – Indian Prime Minister Narendra Modi started the week by telling the Davos audience that climate change is the greatest threat to civilisation.
His comments were consistent with the 2018 edition of the Global Risks Report, released the week before Davos – it showed that environmental concerns now dominate the most dangerous risks facing the world. Worse, they are now affecting our health and prosperity.
He was followed on the Davos stage by a week-long call to action by government, business, civil society, and youth leaders.
2018: A year to step up climate action
Risalat Khan, a young climate campaigner, said: "The previous generation of decision-makers have failed us, have failed our generation. I'm not sugar coating this. I think you have already failed us through the inaction from the previous generation. And the next three years, from 2018 to 2020, that's the time that you have to redeem yourselves.
"That is the message to the previous generation of decision makers."
Greenpeace's Jennifer Morgan issued a plea to every leader at Davos to "connect the dots" on climate change and recognize that incremental change will not be enough. Leaders needed to catch up with their citizens, customers, and employees in connecting the dots and increasing the pace and scale of climate action.
Leading the charge in setting new climate commitments, French President Emmanuel Macron announced France would shut down all coal-fired power stations by 2021 and would make climate action one of five pillars in his plans to reform the economy.
Anand Mahindra, Chairman of Mahindra Group, described efforts to address climate change as the century's biggest business opportunity. For his part, he announced that all Mahindra Group companies would commit to the goals of the Paris Agreement on climate change by setting science-based targets for reducing their greenhouse gas emissions. He called on his peers in business to "step up" and align their business strategies with the Paris Agreement.
The head of global insurance giant AXA told participants that climate change had become a reality for the insurance industry. Thomas Buberl said a global warming scenario of 3-4C degrees would not be insurable. As a consequence he announced that AXA would no longer insure coal projects and was also divesting from coal.
A one-man parade?
Governor of Washington, Jay Inslee, said President Trump was out on his own on climate change. "There is only one man in this parade. And no one has followed him in this regard." He said that 15 states had joined the United States Climate Alliance, which was committed to the Paris agreement and represented 40% of the US economy.
An ocean of opportunity
To date, the world has relied on the oceans to mitigate climate change. They have absorbed 90% of the excess heat humanity has produced and around 30% of our CO2 emissions. But our oceans are under threat from plastics, over-fishing, global warming, and acidification.
An ambitious new global partnership to save life in the ocean was launched by the United Nations Secretary-General's Special Envoy for the Ocean, Peter Thomson, and Isabella Lövin, Deputy Prime Minister of Sweden, with funding from Marc Benioff and his wife Lynne Benioff through the Benioff Ocean Initiative.
The Friends of Ocean Action partnership will comprise leaders from science, technology, business and non-governmental groups – around 40 of the world's most committed and influential ocean activists and thought leaders – who will leverage their collective network to scale and accelerate action to meet Sustainable Development Goal 14, which is on oceans.
A window of opportunity
However, despite the commitments and strong words used throughout the week, there was also strong agreement that the environmental challenges facing humanity and our planet are urgent and cannot be ignored. We have a narrow window of opportunity to reverse course before it is too late and 2018 must be the year leaders step up to meet the challenge.