Nigeria, with our staggering population of nearly 220 million people, holds the title of Africa's most populous country. However, despite over 93 million registered voters, only around 25 million individuals, approximately 29%, participated in the fiercely contested presidential race held in this year.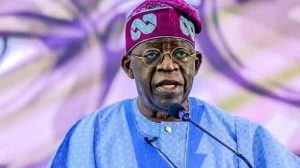 In the end, Bola Ahmed Tinubu of the ruling All Progressives Congress (APC) emerged victor garnering over 8.8 million votes, in a perceived trounce his closest rivals, former Vice President Atiku Abubakar of the Peoples Democratic Party (PDP) and Peter Obi of the Labour Party (LP).
The professional accountant turned politician has successfully transitioned from the halls of business administration at Chicago State University to an auditor at Exxon Mobil to the corridors of power in Lagos State and now to the country's top job.
He was deeply influenced by his early association with the National Democratic Coalition, a pro-democracy group that played a pivotal role in the struggle for democracy in the 1990s. His unwavering commitment to the cause even led to his imprisonment and subsequent exile during the oppressive regime of military ruler Sani Abacha.
As Nigeria prepares for the transition of power on May 29, with President Buhari's tenure coming to an end, the question of how Tinubu will tackle the pressing issue of climate change looms.
Nigeria has been greatly affected by the devastating impacts of climate change, exemplified by the catastrophic floods that ravaged over 30 states last year. These floods claimed the lives of over 600 people and displaced 2 million individuals, leaving them homeless and destroying their livelihoods. Moreover, the residents of the south-south states are no strangers to the health issues caused by heavy soot accumulation on their walls and in their lungs.
These threats have emerged at a time when climate financing, especially from the global North to address loss and damage, has consistently fallen short of targets.
Africa, despite contributing less than 3% of global emissions, bears the brunt of climate change's effects. Adding insult to injury, only a mere 2% of climate financing for renewable energy has been directed towards the continent in the past decade. To achieve emission reduction targets and limit global warming to below 1.5 degrees Celsius, countries in the global South, including Nigeria, require an astounding $2 trillion annually until 2030. Nigeria alone needs a staggering $1.9 trillion, according to the Energy Transition Plan report, to reach net-zero emissions by 2060. These astronomical figures present daunting challenges, given the economic struggles faced by the country and the entire continent.
Undoubtedly, climate change represents the greatest threat to socio-economic development, making it a crucial issue to address as a new administration prepares to take office.
President Buhari's administration leaves office with different climate mitigation legacies on its shoulders. Greatest of them all is the enactment of the Climate Change Act of 2021. This landmark legislation acknowledges the burden of the climate crisis and provides a robust framework for tackling it. The Act for instance empowers Federal and State courts to intervene in cases where environmental threats pose a risk to the climate and the environment.
The International Union on Conservation of Nature (IUCN), describes the Act as a "the first stand-alone comprehensive climate change legislation in West Africa among the few globally and regionally."
Besides, Buhari's public addresses have also been centred on the call for financing to boost mitigation.
During COP27, for instance, President Buhari in his address to the delegates noted: "I do not think anyone in Nigeria needs persuading of the need for action on the environment. The desertification in the north, the floods in the central, pollution and erosion in the South are enough evidence."
With the stage set, the question that lingers in the minds of Nigerians and the international community is how Tinubu will approach the pressing issue of climate change.
Analysing Tinubu's 16-point agenda for Nigeria, outlined in his manifesto titled "Renewed Hope 2023-Action Plan for a Better Nigeria", provides some insights into how he may approach climate change.
National security, economy, agriculture, power, oil and gas, transportation, education, healthcare, digital economy, sport, entertainment and culture, youth empowerment and entrepreneurship, women empowerment, social programs, judicial reforms, federalism and foreign policy comprise the new government's focus areas.
While some areas of his agenda, such as power and oil, cover climate-specific programs, his stance on energy transition remains unclear. On one hand, he acknowledges the need for Nigeria to diversify its economy away from oil and gas dependence.
"History shows that the oil and gas sector is not the answer to our nation's economic problems," his manifesto reads in part.
However, on the other hand, he outlines his goal of increasing oil production to 2.6 mmpbd by 2027 and 4 mmpbd by 2030.
Tinubu does express his commitment to collaborate with national and state governments to create an enabling environment for attracting foreign and domestic investors to renewable energy. He also emphasises the importance of reducing emissions by curbing flaring, a harmful practice in oil production that causes environmental and public health harm.
Tinubu has however found himself in the spotlight over controversial comments regarding climate change especially during his campaign.
At the famous Arewa Consultative Forum for presidential candidates, on October 17, 2022, he stated, "We are a poor nation…They said we need to plant more trees and they are not giving us money. We need to open our eyes, shine them and tell the West, if you don't guarantee our finances and work with us to stop this, we are not going to comply with your climate change."
He further described the standoff in a metaphorical remark comparing it to a situation similar to "preventing a church rat from eating poisoned Holy Communion."
It is, however, imperative that one acknowledges the looming elephant in the room – what happens if developed nations continue to evade their responsibilities and shirk their commitments towards climate financing? Will Nigeria be left with no choice but to relinquish all forms of agency and control?
A closer look at Tinubu's team and the individuals who hold influence over climate policies reveals a glimmer of optimism.
Incoming vice president Kashim Shettima, for instance, has demonstrated strong support for climate mitigation through various projects and programmes initiated during his tenure as Borno State governor between 2011 and 2019.
Additionally, Nigeria can count on valuable allies such as Damilola Ogunbiyi, CEO and Special Representative of the UN Secretary General for Sustainable Energy for All, and influential climate change leaders like UN Deputy Director General, Amina Mohammed.
Their experience will prove invaluable in driving the mitigation agenda under the new administration.
Nigeria has an ambitious plan of attaining carbon neutrality by 2060 despite more than 80% of the country being powered by oil and gas. IRENA projects it is possible for Nigeria to downscale this dependence to 60% by 2050. The outlook is consistent with Nigeria's Nationally Determined Contributions targets to reduce greenhouse gas emissions by up to 20% by 2030. However, significant resources are required to meet these targets. However, all these will need an intentional government to achieve.
As all eyes rest on the incoming administration, it is vital to acknowledge that taking proactive and comprehensive measures to mitigate climate change is crucial to prevent further losses.
Besides this, climate inaction also has direct economic consequences. For instance, Nigeria's extensive Atlantic Ocean coastline, spanning seven southern states, has already suffered significant erosion, resulting in a loss of $9.7 billion in 2018, equivalent to 2.4% of the national GDP at that time, according to the World Bank.
However, for now, it remains a fluid situation as millions of Nigerians await to see how Tinubu will confront and navigate the complexities of the stubborn challenge of climate change. Nigeria's desires a president that sees problems and solves problems and not one that see problems and cause more problems and climate change is one of the problems.
Michael David Terungwa, a Climate and Environmental Right Activist, is Team Lead, Vote4Climate Nigeria