Cyclone Harold on Wednesday, April 8, 2020 lashed the Pacific Island state of Fiji, just days after it ripped through Vanuatu.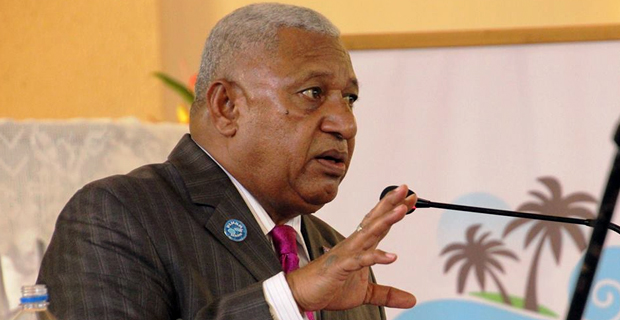 According to meteorological and disaster authorities, the category 4 tropical cyclone has damaged homes and caused widespread flooding across Fiji.
Fiji Prime Minister, Frank Bainimarama, said that the eye of Category 4 Tropical Cyclone Harold would arrive at Kadavu, bringing the worst of the heavy rains, winds and flooding to Fiji.
"Our evacuation centres are safe, sanitised and monitored to ensure that they do not surpass capacity.
"Those under quarantine due to coronavirus will not mix with others.
"Stay indoors; do not travel; stay safe,'' Bainimarama said.
The cyclone hit the main island Viti Levu, where capital Suva is located, on Wednesday evening.
Meanwhile, the government has restricted movement, allowing emergency services on the road.
According to the Director for National Disaster Management Office, Vasiti Soko, 25 evacuation centres had been activated across Fiji, where hundreds of evacuees had already arrived.
She acknowledged the damage the cyclone had done to properties and some of the areas in the country's west, causing power outages.
Jemesa Tudravu, the Chief Medical Adviser, said Fijians should stay at home to stay safe and save lives from both the cyclone and the coronavirus.
The country has 15 confirmed cases of COVID-19 so far.
According to Fiji Meteorological Service, the cyclone brought winds as strong as 250 kilometres per hour in some parts of the country.
"Most low lying areas around Fiji has been inundated by floodwaters with the major rivers of Fiji being above warning level,'' the service said.
The service added that huge tidal waves were hitting the islands.
Earlier, the same Cyclone Harold hit many islands of Vanuatu at category 5, cutting off communications in some areas and destroying 70 per cent of homes and infrastructure.
The islands of Santo, Malo and Pentecost were lashed by torrential rain and winds above 235 kilometres per hour, as the storm travelled directly over Luganville, the country's second-biggest settlement.
Meanwhile, photos shared on social media on Wednesday showed countless homes and buildings destroyed and agricultural lands flattened on Santo.
According to Santo residents, Radio New Zealand (RNZ), reported that 70 per cent of homes and infrastructure have been damaged.
According to Julian Bluett, a Principal at Rowhani Baha'i School in Luganville, thousands of people have lost their homes.
There is extensive damage.
"In one case, the foundation of the house is there and all the things inside, but the house cannot be seen,'' Bluett said.
No deaths have been reported so far.
According to caretaker Prime Minister, Charlot Salwai, the Vanuatu Government will send an assessment team as soon as aviation clearance is granted.
The cyclone has complicated Vanuatu's pre-emptive efforts to tackle the coronavirus pandemic and the aftermath of a volcanic-ash fall on Tanna Island.
The cyclone came at a time when the country's political parties were scrambling to form a government after the general election since no one got a majority.
In 2015, category-5 Cyclone Pam hit Vanuatu and devastated large parts of the Island, leaving 17 people dead and causing damage valued at hundreds of millions of dollars.
Though there have not yet been any confirmed COVID-19 cases in Vanuatu, the remote Island nation announced a state of emergency on March 25, closing its borders as well as enforcing a lockdown.
Earlier, Cyclone Harold's storm near the Solomon Islands, killing at least five people, while 22 others were missing after they were all thrown overboard a packed ferry that left amid warning.
After Fiji, Harold was expected to move off toward Tonga.