At least nine people were reported killed after tropical cyclone Eloise hit Africa's east coast at the weekend with wind gusts of up to 160 kilometres per hour and heavy rain.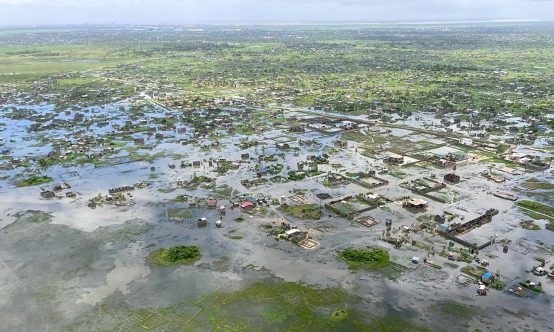 The majority of the deaths were reported in worst-hit Mozambican port city of Beira, according to authorities – most of them killed by falling trees.
The districts of Buzi and Nhamatanda were affected by severe flooding.
The cyclone, named Eloise by meteorologists, weakened as it moved towards neighbouring Zimbabwe, Botswana and parts of South Africa.
It came from the island nation of Madagascar, where authorities said there had been at least one death and flooding.
According to Mozambique's National Institute of Meteorology (INAM), Beira saw 250 millimetres of rain fall within 24 hours.
In a related development, South Africa experienced heavy rains and floods due to cyclone Eloise in the past weekend which are continuing in various parts of the country with some people being evacuated.
Sipho Hlomuka, Member of the Executive Council for Cooperative Governance and Traditional Affairs in KwaZulu-Natal, disclosed this on Monday, January 25, 2021.
He said KwaZulu-Natal which is next to Mozambique experienced heavy rains and the ground is saturated with water since Sunday.
"In Jozini, a family had to be evacuated when their home was flooded.
"In this case, the family requested to be moved to their relatives who reside in a safer part of the area.
"In another case in Abaqulusi, Ward 13 at Esilweni, a house collapsed in the early hours of the morning at about 2 am, injuring two people.
"The injured were immediately taken to the hospital and have since been discharged," said Hlomuka.
He said the disaster management team is watching the rains and ready to intervene if there is a need to.
They have opened community halls to accommodate people while observing Coronavirus protocols.
Hlomuka called on people to be vigilant and to tune into their community radio stations for the latest updates on the weather conditions.