Nigerian Civil Society Framework on Paris Agreement and SDGs (NCSFPAS) and Climate and Sustainable Development Network (CSDevNet) in collaboration with other stakeholders in the South West region met on Tuesday, October 13, 2020 at a workshop in Ibadan, Oyo State, to review the Post-COP activities in order to assess how well the outcomes of the COP25 has been implemented.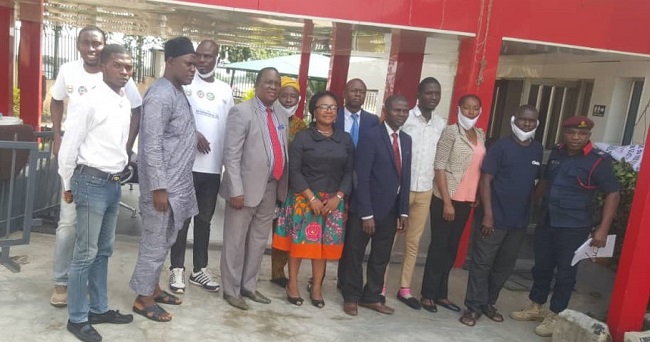 Participants also used the occasion to commemorate the 2020 International Day Disaster Reduction as set aside by the United Nations General Assembly in 1989.
The event, which brought both state and non-state actors together, witnessed presentations of papers from National Emergency Management Agency (NEMA) (South West Zone), Nigeria Security and Civil Defence Corp (NSCDC), Oyo State Emergency Management Agency (OYSEMA) and Centre for Disaster Risk and Crisis Reduction (CDRCR).
In his presentation, the Zonal Coordinator, NEMA, Mr. Slaku Lugard, traced disaster risk reduction to the Hyogo Framework for Action (2005-2015). He highlighted the mandate and functions the agency is saddled with and its operational system.
He emphasised that NEMA by mandate should not be a response agency but an agency that should be coordinating all other relevant agencies and institutions in disaster prevention, mitigation and response.
He added that the agency has a separate department for Disaster Risk Reduction and that now, NEMA is investing in proactive disaster risk management rather than the reactive of the past. He demanded that government should institute adequate legal framework to back operations of SEMAs, and that old laws should be reviewed to adequately meet up with present demands.
He submitted by calling for a Joint Emergency Stakeholders Response Team in each of the South Western states, budgetary provision for disaster risk management in the region and review of disaster management approaches and strategies by agencies across the country in line with the year's focus which is to "substantially increase the number of countries with National and Local Disaster Risk Reduction Strategies by 2020".
The OYSEMA Executive Secretary, Alhaji. Lukman Arasi, in his presentation admitted that non-availability of Local Emergency Management Committees in many local government areas in the state is a challenge to disaster risk management at the grassroot. He therefore promised that the incumbent government in the state would take appropriate actions to ensure effective Disaster Risk Governance at the local level.
In a presentation, Mr Stephen Adesoji, who represented the Nigeria Security and Civil Defence Corp, highlighted the relevance of the agency in disaster risk management from national to Local communities. He decried the non-availability of disaster risk management equipment among stakeholders.
He said: "Many states and local government areas don't have ambulances, so the government should make provisions to equip all agencies to be able to serve vulnerable communities better."
Mr. Kolawole Amusat, CSDevNet's acting Zonal Coordinator for South-West and Mr Sheriff Ajao attempted a review of COP25, while looking at the Conference of Party (COP) as the supreme decision-making body of the United Nations Framework Convention on Climate Change (UNFCCC). They noted that Parties to the Convention are represented at the COP, at which they review the implementation of the Convention and any other legal instruments that the COP adopts and take decisions necessary to promote the effective implementation of the Convention, including institutional and administrative arrangements.
He emphasised that civil society organisations from Nigeria were displeased with the outcomes of the COP25 because they felt disappointed as there were no serious commitments to deep emission cuts from industrialised countries that reflect the scale and urgency of the unfolding climate crisis.
He added that they were also disappointed with lack of any clear commitment to previously pledged and new, scaled-up climate finance, particularly to fund gender-responsive adaptation and loss and damage.
The Nigerian Report on Post COP 25 produced by Department of Climate Change, Federal Ministry of Environment was discussed by the participants and agreed that efforts should be channeled towards improving various activities in Climate Change Mitigation, Climate Change Adaptation, Climate Resilience, Waste Management, Gender Issues, Awareness Campaign, Action on Climate Empowerment, Climate Finance, Youths and CSOs Activities, as well as Media Coverage of Climate Change.
While facilitating the way forward for effective disaster risk reduction and effort to combat climate change in the region, participants proposed the following recommendations to be implemented by all relevant stakeholders especially the state actors:
That there should be adequate budgetary provisions for relevant Ministries, Departments and Agencies that are involved in disaster risk reduction and climate change to be able to deliver their mandate towards building resilient communities in the South West region.
That efforts should be directed at localising disaster risk reduction and climate change activities in such a way that vulnerable communities will understand their roles as stakeholders in both disaster risk reduction and efforts to combat climate change.
That there should be a region-wide risk assessment in the South West Zone to ensure stakeholders have a clear understand of risk profile in the zone which will help in their efforts to reduce risks and combat climate change impacts.
That there should be improved synergy among stakeholders especially between both state and non-state actors and organised private sector, as the organised private sectors are yet to be playing expected roles in climate change mitigation, adaptation and resilience.
Having identified our transport system as a major source of emission, participants lay emphasis on the need for the region to invest in a comprehensive rail project that will cut across the six states in the zone to reduce emissions from the transport system.
That climate-resilient agriculture be introduced in the zone to farmers to assist them build resilience to climate change challenges in the agricultural sector.
That there should be an improved method of waste management in the region to ensure reduction of waste that could trigger pollution in the region.
That issues of women and children should be prioritised in disaster risk reduction and climate change activities within the region by all stakeholders.
That all relevant stakeholders in disaster risk reduction and climate change should embrace transparency, accountability and openness in the discharge of their mandate.
That the use of indigenous languages should be paramount by the media in dissemination of disaster risk reduction and climate change messages in the region as messages in foreign languages are difficult to understand by majority of people are in dire need of them.