In the bid to end communal spread of COVID-19 in Nigeria, Climate and Sustainable Development Network (CSDevNet) in partnership with Voluntary Oversea Service (VSO) Nigeria, SDGs Thursday and the Nigeria Youth Engagement Network (NYEN) engaged over 50 Community COVID-19 Champions/Volunteers (50% women) across communities in Abuja, Kano and Adamawa states.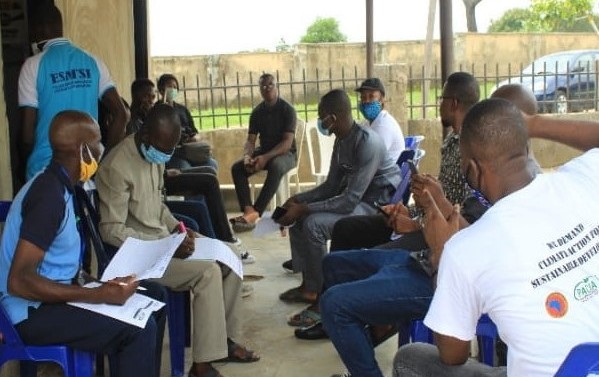 Heading the youth engagement innovation implementation team on the VSO COVID-19 response and action are Mr. Pius Oko (CSDevNet) and Mr. Abeng Lucky (SDGs Thursday). The initiative was pioneered by the VSO COVID-19 Response Small Grant project.
Mr. Oko stated that since the index case of the coronavirus disease (COVID-19) was detected on February 27, 2020 in Nigeria, several measures have been instituted by the Federal Government.
For instance, President Muhammadu Buhari inaugurated the Presidential Task Force on COVID-19, the Nigeria Centre for Disease Control (NCDC) activated a national Emergency Operations Centres (EOC), together with the Federal Ministry of Health to curtail the spread of the disease and protect the health of Nigerians such as restricting movement within and outside the country and announcement of lockdown in most states by the governments at the federal and at state levels.
Oko emphasised that despite all the entreaties from government, development partners and CSOs on the public and individual responsibilities, there are problems on perceptions, attitudes and public behaviours that must be tackled in order to discontinue community transmission.
He pointed out that, iIn April and May 2020, CSDevNet and SDGs Thursday through several efforts and interventions directly supported over 1,500 households and indirectly reached over 3,000 households on COVID-19 response in education, sensitisation, feed-a-family soft palliatives, and donation of personal protective equipment and hand washing facilities across the nation.
Mr. Abeng Lucky affirmed that the VSO partnership with CSDevNet and SDGs Thursday is to upscale the ongoing interventions to directly reach 2,000 households in satellite towns and rural communities in a month through knowledge, attitude and practice (KAP) survey on COVID-19, identification and engagement of 50 community COVID-19 prevention champions on Advocacy (50% women), and training of 100 youths in production of basic PPE.
Others include distribution of over 2,000 face masks and hand sanitisers made by trained youths, street-to-street public awareness and periodic sensitisation on COVID-19 prevention and adherence to recommended health protocols and safety hygiene using indigenous language, and online sensitisation and advocacy using various media platforms.
Mr. Lucky stated that the intervention would reduce the impact of COVID-19 spread and prevention of communal transmission through capacity building training for youths in production of basic personal protective equipment, sensitisation and advocacy programmes using indigenous languages and local action in satellite towns and rural communities to quickly reduce the spread of COVID-19 in Nigeria.
Oko added that, following the already existing gradual easing of the lock down (on April 27, 2020), citizens are encouraged to take responsibility and ensure adherence with the following health protocol /preventive measures:
Mandatory use of face masks (advisory use of cloth or non-medical face mask) covering for all persons while in public spaces.
Regular hand washing with soap/sanitisers under running water.
Extensive temperature checks in all public spaces.
Maintaining at least 2 metres (6 feet) physical distance between yourself and individuals.
Closure of activities that will cause any form of gathering including schools, places of worship, sporting, public spaces, and social events.
Non-physical greetings (avoiding hand shaking or hugs) and inter-state travel restrictions.