Developing countries are interested in knowing the level of progress made so far on the implementation of climate change projects in 17 developing countries across Africa, Latin America and the Caribbean. The projects were approved some ago by the Green Climate Fund (GCF).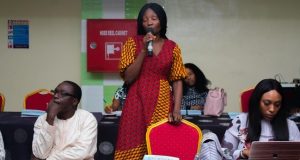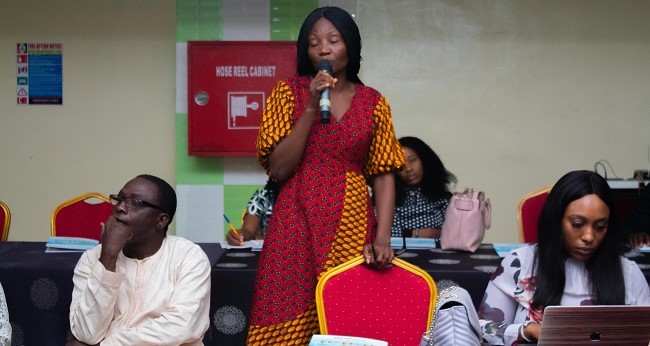 Ms. Titi Akosa, the Executive Director, Centre for 21st Century Issues, stated this in her opening remarks during the GCF-Gender and Accountability Forum on FP095 Transforming Financial Systems for Climate with Agence Francaise de Developpement (AFD) which affords stakeholders the platform for interactions in the level of development made so far.
"Last year, we had the first accountability forum on this project where we had officials of AFD discussing the start-off of the implementation of and all the challenges they are having in terms of implementing the project in those 17 countries where they are supposed to be implemented.
"Today, we are following up to know what they have done so far, whether other countries have been rolled out, what are their challenges, what kind of solutions can we proffer. Because what is most important for us as developing countries is to ensure that these funds get into our countries and people benefits from the projects," she stated.
While giving an overview of the programme, Jumoke Odediji, C21st Programme Director, recalled that the first edition of the GCF's Project FP095 Transforming Financial Systems for Climate was held virtually on Thursday, March 24, 2022, being implemented by AFD with response to issues bordering on project implementation, public action plans and implementation of women and sub-project activities.
Odediji stated: "TFSC Projects have been approved in four countries namely: Egypt, Ecuador, South Africa and Nigeria at the rate of 501 million Euros and disbursement of loans by partner banks had not yet started as at then."
According to her, the project, a Private Sector Financing, was approved by the GCF Board on October 20, 2018, and the implementation period was for seven years with AFD as implementing accredited entity to be implemented in 17 countries namely Benin, Burkina Faso, Cameroon, Cote d'Ivoire, Ecuador, Egypt, Kenya and Madagascar.
Others are Mauritius, Morocco, Namibia, Nigeria, Senegal, South Africa, Tanzania, Togo and Uganda.
Odediji further disclosed that the project provides loans and technical assistance in these 17 developing countries across Africa, Latin America and the Caribbean to create self-sustaining markets in energy efficiency, renewable energy and climate reliance.
The C21st Project Manager however noted: "There are two Annual Performance Reports (APRs) for 2019 and 2020 and the two APRs reported the same information on the project which did not elaborate on the implementation status of the project in the implementing countries.
"For the project implementation in Nigeria, Bank of Industry and AFD had built partnership for a 100 million Euros credit-line for the expansion of the green finance in Nigeria. The transaction was approved by AFD, it is a credit-facility agreement which is a Global Partnership for a sustainable future."
In her remark, Celine Thoniard, while speaking on the "State of AFD-GCF Partnership", disclosed that "AFD got accredited at the highest level of accreditation otherwise known as 'Category A' which has high volume of funding above $250 million per project with high E&S risk in all kinds of financial instruments such as grants, concessional loans and guarantees".
She added: "One of the main partners with seven projects/programmes approved for more than $65 0million commitments from the GCF, leveraging on more than $2.4 billion investments for climate, five adaptation projects in Senegal, Morocco, Palestine, India Ocean, two multi-country cross-cutting programmes, one-third grant and two-third loan, strong focus on adaptation, Africa and the Small Island Developing States (SIDS).
"Another area of partnership is the support to local financial institutions in building their skills and capacities for climate finance, support in their relationship with the GCF, accreditation/re-accreditation processes and development."
Alexandra de Caffarelli, who highlighted an "Overview of TFSC State of Progress", disclosed that a TFSC approved by GCF in 2018 and was launched since October 2019, to support the low-carbon transition of financial institutions comprising public and private and their clients through the financing of climate projects.
She said the main objective of TFSC is to remove the financial and technical barriers faced by financial institutions partners to enable borrowing for investments contributing to climate change adaptation and mitigation.
"There is Credit Facility with adapted financial incentives of 615 million Euros and Grant Facility for tailor-made Technical Assistance amounting to 38 million Euros. At the beginning of the programme, 17 countries are eligible to benefit but at the end of June this year, over 538 million Euros worth of projects have been approved in five countries such as Morocco, Egypt, Cote d'Ivoire, Nigeria and South Africa.
"Also, there is a Programme Commitment Deadline by December 2024 with additional TFSC projects currently under appraisal in Morocco and Egypt," she stated.
"However, there are some challenges hindering the progress of TFSC among which are scope of programme restricted to financial institutions capable of borrowing directly from AFD/Proparco in hard currency and without state guarantee, unlimited pool of eligible financial institutions, impact of COVID-19 pandemic as well as procurement delays in recruitment of Technical Assistance Experts," she maintained.
Zachary Burk, while speaking on the "Deployment of TFSC Technical Assistance", disclosed that "Grant-funded technical assistance to partner banks in five main areas are based on their needs. Origination and structuring of eligible sub-projects of climate projects that fits within eligible criteria of TFSC. Supporting the partner financial institution in developing climate finance strategy by building their capacities internally such as risk management, those are the kind of discussion we have ongoing with the number of clients aiming around capacity building and in developing financial products that are better adopted to reaching certain segments that are of climate impact as well.
"We also do environment and risk management by doing due diligence and ESMS appraisals and, if necessary, we offer technical assistance on the care facilities to support and strengthening of the environmental management suppliers," he added.
Celine Thoniard, who revealed that AFD is a feminist agency while looking at the "Methodology on Gender Approach" of the programme, however deliberated on how AFD takes into account and integrates gender in development projects.
"No AF project should be blind or neutral to gender issues, as they can have negative impact. All projects must incorporate a gender analysis into the identification phase.
"Gender-based actions are integrated into procedures at each step of the AFD project cycle including communication, appraisal, commitment as well as implementation and monitoring," she outlined.
Thoniard also revealed: "The TFSC Grant-Agreement for Technical Assistance in Nigeria was signed in February 2023 with the Bank of Industry (BOI), the global TFSC project in Nigeria consists of two components such as: 'A credit line of 100 million Euros to finance climate oriented projects (mitigation and adaptation)' and 'A grant-funded Technical Assistance programme of 2.5million Euros', to support BOI in identifying eligible investments to TFSC, deploying a climate strategy, managing climate-related financial risks and implementing policies on gender equality."
The Executive Director of C21st Issues however noted that her organisation cannot be in all the benefiting countries at the same time. She called on the AFD team to highlight the names of representatives of AFD in those countries to enable the Country Gender-Monitors link up and work with them at country level as this would enable them to have a session on what is the level of development made so far in determining the challenges being experienced and support their needs in achieving their goals.
The session witnessed technical support from Tara Daniels of Women Development and Environment Organisation, Marion Callock and stakeholders in civil society organisations across Africa, Latin America and beyond.
By Ajibola Adedoye