A global movement for accelerated progress comprising of representative organisations, partnerships, and coalitions from every continent and region of the world, action/2015, has been launched in Nigeria. The movement which works together to ensure that 2015 is a transformative year with an ambitious new global sustainable development agenda and an international climate change agreement set sail in Nigeria through a strategic partnership with leading Nigerian civil society organisations under the aegis of Climate and Sustainable Development Network (CSDevNet).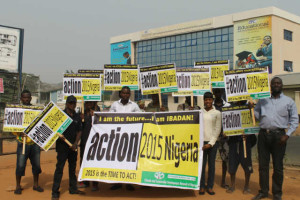 Speaking to the press after the launch in Lagos on Wenesday, Atayi Babs, National Network Coordinator of CSDevNet who also doubles as the Lead Facilitator for action2015Nigeria, stated that 2015 is a critically important year as processes that will potentially shape development frameworks across the globe will be concluded.
His words: "2015 is the year three UN summits that can bend the course of history will hold. One in March that will develop a post-2015 framework for Disaster Risk Reduction, another in September that will agree on a new Sustainable Development Goals (to replace MDGs) – a new framework for humanity – to tackle poverty, gender inequality and environmental crisis and the third in December to set new Climate Action Targets – a crucial step towards a safer planet and it is in furtherance of these that action2015 was formed to demand change and work to ensure world leaders adopt truly ambitious goals and agreements on climate change, poverty, inequality, and injustice.
"'action/2015Nigeria' is therefore a platform to build a groundswell of public pressure and ensure action is taken to deliver transformational change. It is also an avenue to think globally while acting locally, providing ways for everyone everywhere to get involved by talking, taking action, texting and tweeting their way into influencing the outcomes of these global debates. These debates affect us all. Our leaders must hear our voice. When political leaders meet and define their positions in these agreements, they will know that millions and millions of people will be demanding their human rights, listening to their promises and are ready to hold them accountable for what they do."
According to him, key demands of "action2015Nigeria" include the urgent need for all 2015 commitments to reflect an end to extreme poverty that condemns millions of people, especially women and girls, to an early death, poor education and ill health, a turning point in the soaring levels of inequality and discrimination driven by economic policies that deliver for the few rather than the many, and an accelerated transition to 100% renewable energy so that a safer climate and sustainable economy – with all its benefits for people and planet is made possible.
"The 'action2015Nigeria' campaign also demands that the Post-2015 Framework must help to make climate action in all countries happen without further delay and must support poor people, particularly in Africa and Nigeria to build resilience so as to adapt to climate impacts they are experiencing already. The network further demands that all 2015 commitments must be underpinned by the four guiding principles of inclusion, equity, people-centredness and environmental sustainability and should prioritise support to high-risk countries like Nigeria and populations disproportionately impacted by natural and human-made hazards and disasters," he stated
With many countries, cities, and states including Nigeria, billed to hold elections this year and next, Atayi Babs enjoined Nigerians "to pile up pressure on all aspirants until climate change, poverty elimination and renewable energy transition become embedded not just in their manifestoes, but as fundamental human rights necessitating urgent attention of all."
The national launch of action2015Nigeria which encompasses advocacy visits to media houses, royal fathers, faith and respected opinion leaders, and establishment of action2015 clubs in secondary schools will simultaneously take place across the six geo-political zones of Nigeria from the 14th to 17th of January 2015.