In collaboration with WelfareAid Initiatives, Nigerian Civil Society Framework for Paris Agreement and SDGS (NCSFPAS) and the Pan African Climate Justice Alliance (PACJA), the Climate and Sustainable Development Network (CSDevNet) is providing solutions and leading the way by creating awareness on the COVID-19 and donating handwashing facilities across Nigeria.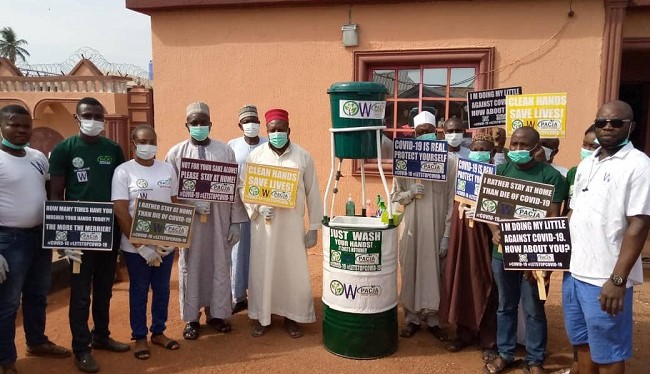 The first set of items were donated to the Dekina Local Government Area of Kogi State, the National Union of Road Transport Workers (NURTW) and the National Association of Road Transport Owners (NARTO).
The paramount ruler of Anyigba, Dekina LGA of Kogi State, HRH. Alh. Shaibu Okolo, the Ogohi-Onu Anyigba, who received the first set of items on behalf of the people, called on the government and private organisations as well as individuals to partner with CSDevNet in order to make more of these facilities available to the public.
CSDevNet says the gesture is in line with its commitment to unifying and coordinating isolated civil society efforts on sustainable development in the country.
It adds that this is aimed at ensuring that people-centred response mechanisms are accorded desirable attention and relevance as, according to the group, climate resilience is increasingly mainstreamed into national poverty reduction and sustainable development strategies and actions.
The group says: "CSDevNet is deeply saddened by the impacts of the COVID-19 (coronavirus) pandemic and we send our sympathies to all those who are suffering as a result.
"We are also heartened by the many acts of kindness that have spanned our communities nationally and regionally in response. We particularly acknowledge the sacrifices made by health care workers and others ensuring other critical services remain available throughout the crisis.
"The current situation strengthens our belief in the importance of health infrastructure and climate resilience to safeguard human wellbeing as well as the environment and economy upon which we depend.
"The crisis also demonstrates our ability as a Nigerians to respond rapidly to imminent dangers, as we must also do to combat other unprecedented threats to our country men and women, such as climate change, accelerating biodiversity loss and growing national inequalities.
"Together, we can still change the course of this pandemic even if that means addressing fear and inaction. As we mourn all those who have lost their lives and the many families who are suffering, we must show solidarity with the most vulnerable – the elderly, the sick, those without reliable healthcare, and those on the edge of poverty.
"CSDevNet is committed to continue working closely with governments, private sector and other non-state actors to further strengthen national and regional frameworks for sustainable and resilient health infrastructure and to scale up the implementation of nature-based solutions."