Cross River State of Nigeria is among the almost 700 major regions, cities, companies and investors from around the globe who on Wednesday pledged their support for the Paris Agreement, which emerged on Saturday at the close of the UN climate change conference (COP21) in Paris, France.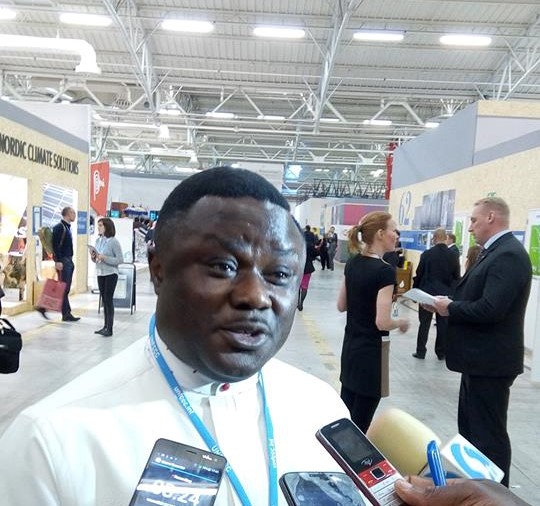 Last week at the COP, governments of the world under the UN united in action on climate change by adopting the Paris Agreement, the first universal, legally binding climate change deal. The agreement will spur a transformation of global growth and development and open the door to a low-carbon, stable, sustainable future, the French Presidency of COP21 said.
And in the spirit of the milestone development, regions and business on Wednesday promised to quickly and effectively help implement the Paris Agreement and accelerate the transformative changes needed to meet the climate change challenge.
L'Appel de Paris, or the Paris Pledge for Action, is a call to action in support of the Paris Agreement which brings together a multitude of voices on an unprecedented scale within a single, collective statement: "We welcome the adoption of a new, universal climate agreement at COP 21 in Paris, which is a critical step on the path to solving climate change. We pledge our support to ensuring that the level of ambition set by the agreement is met or exceeded."
According to the UNFCCC, the landmark pledge is a clear signal that the message sent by the negotiations has been received loud and clear and that cities, regions, business, investors and other non-state actors are now ready and willing to stand shoulder to shoulder, alongside governments, to implement the terms of the agreement.
"This is our best opportunity to limit global temperature rise to well below 2 degrees Celsius – and pursue efforts to limit the increase to 1.5 degrees – and raise ambition even before the agreement takes effect in 2020," the UN body declared in a statement.
Essentially, L'Appel de Paris is an inclusive initiative by the French Presidency of COP21 that invites all businesses, regions, cities, and investors to join and vow to act on the outcomes of the Paris UN Climate Change Agreement. It has already been signed by over 400 businesses, 150 cities and regions and 120 investors controlling $11 trillion in assets.
Initial signatories include businesses such as Acciona, Allianz, Mars, Kellogg's, Tata Group, Unilever; investors like Lloyd's and Aviva; megacities such as New York, Johannesburg, Quezon City, Hong Kong, Rio De Janeiro and Mexico City; and regions such as Cross River State (Nigeria), Scotland (UK), Chiapas (Mexico) and California (United States).
French Foreign Minister Laurent Fabius, President of COP 21, said: "Non-state actor leadership is key to the success of COP21 and to the effective transition to a low-emissions and climate-resilient future. The world needs you to step up and rise to the challenges of climate change and sustainable development. This is why I strongly encourage you to take bold actions and make ambitious commitments, both individually and collectively, register them on NAZCA, and sign on to the Paris Pledge for Action, to make sure the commitments made in Paris by governments are achieved or even exceeded."
Christiana Figueres, Executive Secretary of the UN Framework Convention on Climate Change (UNFCCC), said: "COP21 was a landmark, and not just for the Paris Agreement by governments. The extraordinary momentum witnessed before and during the UN conference by cities, provinces, regions, companies and citizens was also a hallmark.
"The Paris Pledge for Action is about taking that momentum to the next level in support of nations as they work towards raising ambition up to 2020 and well beyond—it is about building ever more support by non-state actors who are aligning with government policy as never before."
The pledge uniquely incorporates under one roof a diverse range of entities that are already committed to quickly mitigate emissions and adapt to the impacts of climate change. These non-state actors include members of the Under 2 MOU, the White House Act on Climate Pledge, the Montreal Carbon Pledge, the Principles for Sustainable Insurance (PSI) Initiative, the We Mean Business 'Road to Paris' initiatives, the Paris City Hall Declaration, ICLEI and many more. The pledge is open to more signatories and will spread around the world. All non-state actors are invited to join this call to action in support of the Paris Agreement.
Governor Ben Ayade of Cross River State at the COP said that the application of renewable energy solution as a measure to minimise climate change challenges is un-African.
Speaking at the Climate Change Conference in Paris, Governor Ayade said that applying renewable energy as a solution to mitigating the effect of climate change will mean that developing countries like Nigeria may have to stop the exploration of its hydro-carbon.
Ayade noted that the exploration of hydro-carbon is key to the development of the economies of a good number of African countries.
He said that there has been so much talk about measure against the challenges of climate changes but that the commitments to these agreements has been very weak. He was of the opinion that the major resources for African nations are the forests while for the Europeans, it is their technologies.
He explained that while Europeans are struggling to sell technologies to Africans, they (Europeans) are telling African to stop deforestation so that carbon can be conserved.
"Renewable energy is not the way for Africans at this point in time, renewable energy means put an end to the sale of your hydro carbon, it means Nigeria should stop exporting crude oil, but they are busy doing research, inventing technology using solar energy and wind power. When all of that happens, when the oil price goes down, when you stop producing oil, what are you going to use as an alternative?
"The in balancing of the livelihood that is the alternative to that renewable energy must follow with development, must follow with technology, Africa cannot be in a haste to adopt renewable technology. I would rather have you use fossil fuel with mitigate measures than to cap it and focus on renewable energy.
"While that technology works for them, it is harmful for our economy and until we provide an alternative economy for now. We cannot cap it."
He advised that Africa should shut its doors and reinvent itself.
According to Ayade, there has been a growing concern about the reality of climate change, adding that adaptation is not the way to go. He explained that adaptation is like accepting the situation and learning to live with it.
Ayade, who led the African Governors Forum to the forum, said that mitigation as against adaptation is the way to go.
He said: "My optimism has since been burnt to cold impotent ash because strong commitments are very weak and the applicability of all the discussions are not seen in the course of time, so essentially, there is this strong feeling that there is so much talk with little work.
"But far more  importantly is the growing concern that climate change is real,  as real as it is , African must continue to survive and feed.
Our key resource is our forest, for the developed country, their key resource is their technology. So while they struggle to send technology into Africa, we are told to stop deforestation and maintain our forest stock so we can conserve carbon."
"As Africans, we must shut our doors and reinvent ourselves, adaptation is not the way to go because it is adjusting yourself."
"In all of these, there is very little Africa is doing in terms of technology, in terms of even mechanical cultivation of young plants that have capacity for the assimilation of carbon dioxide.
"We have also been very inefficient.  But I ask you as we come here for COP 21 what is Africa's position, what have we brought to the negotiation table, we cannot continue to play the role of a victim,
"Africans own the largest tropical rainforest; we stand at the middle between the West and the East. It is that place that sinks all the carbon dioxide that comes even from the  US, Canada, Asia, they all come into Africa.
Africa must have a stronger say and have their own pre COP conference before they come to COP. Africa's negotiation must be single, firm, clear. Africa cannot come cap in hand always looking for alms.
"That is what I want to say that Africa must stop coming to the international community to seek funds, we must seek technology, seek equality and relevance, because indeed, it is one of the most blessed continent.
"And as a professor of Environmental Science and the leader of the African Governors Forum for Climate Change these are some of the articulations I made in some of the side events I attended.
"Today, our black colour is no longer a colour but an attitude, the black man signifies the man who comes and say we don't have money, that has to end we don't have the earthquakes that characterize their environment, so why is Africa always on the international scene seeking fund? Why don't you seek partnership, why don't you seek technology? Let's put an end to that."