After 15 years of moratorium, the Cross River State Government has finally lifted the ban placed on logging in the state.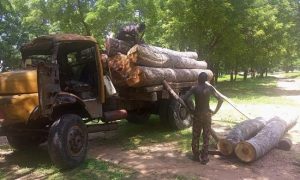 Secretary to the State Government, Prof Owan Enoh, disclosed in a statement dated August 10, 2023, that Governor Bassey Edet Otu has approved the immediate lifting of ban on logging in the state.
According to Prof Enoh, the Anti-Deforestation Task Force on Logging has been dissolved.
The governor, he added, has also directed that:
As enshrined in the Cross River State Forestry Law and Regulations 2011, any illegally sawn wood across the state is considered an offence and to face compoundment. Furthermore, prohibition of sawing wood in the forest reserve is still in force.
All registration of forestry related activities such as timber permiteeship, non-timber permiteeship, registration of farmers in the forest reserve are to report to the Cross River State Forestry Commission for compliance.
All ongoing farming/mining in forest reserves are expected to report to the Cross River State Forestry Commission for authentication.
"Members of the public are required to ensure compliance as government sues for cooperation of all. Defaulters of this directive will be prosecuted," he noted.
The administration of Gov Liyel Imoke had in 2008 imposed a one-year moratorium or ban on logging to allow sanity and accountability in the forest and pave the way for the state to benefit from the REDD+ (Reducing Emissions from Deforestation and Forest Degradation) programme.
However, the ban went beyond one year and has remained till date, paving the way for illegal logging, thereby making environment experts to raise the alarm that over 91,000 tons of timber leave the state every year due to illegal logging and warned that, in the next 10 years, the forest may disappear if the situation was not addressed.
The public outcry against the activities of illegal loggers apparently informed Governor Otu's decision to end the 15-year-old law on forest moratorium in the state.