Wife of Cross River State Governor, Mrs Eyoawan Otu, has expressed support for forest preservation and restoration in the state.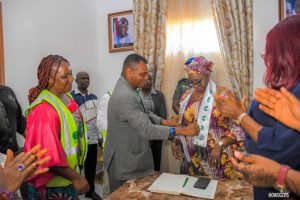 Otu expressed her support when a team from the Earth Environment and Climate Care Ambassadors (ECCA) paid her a courtesy visit on Friday, July 21, 2023, in Calabar, the state capital.
The first lady, who disclosed the importance of restoring and managing Cross River's forests effectively, noted that preventing the depletion of the environment was a way of caring for the climate.
"Those who intentionally destroy the forest should be held responsible and made to face the law," she noted.
She appreciated the team for their tenacity in championing the fight against environmental degradation and efforts towards preserving the forest.
In her remarks, Ms Joy Ikpi, State Coordinator, ECCA, informed the wife of the governor that the group was a non-governmental organisation concerned with the restoration of the forest that had been depleted.
She explained that the health of residents of the state depended on the health of the soil, hence the need to partner with the government in managing the forest sustainably.
"Cross River's forest reserve needs urgent resuscitation; for any tree cut down, 10 should be planted.
"There are tree nurseries in all the 18 local government areas of the state that are native to that environment, so permission ought to be taken to cut down any tree to ensure that others are planted," she maintained.
Also, ECCA Adviser, Glory Eyo, said that the environment was everyone's business, and everyone must be responsible for its care.
Eyo noted that ECCA had Carbon Marshalls who monitored carbon emission into the atmosphere, adding that there was too much carbon being emitted and not enough trees to take in the carbon dioxide.
She explained the need for ECCA to partner with the state government through the Waste Management Agencies across the 18 LGAs
This, according to her, will ensure that the state is clean, green with the creation of employment and generation of income for the state.
Available data shows that a large portion of the remaining forests in Nigeria remains in Cross River; however, these forests are undergoing fast depletion due to human activities.
By Christian Njoku