Members of civil society and non-government agricultural stakeholders operating under a group called Voices for Food Security (VFS) have called on the Federal Government to come to the aid of farmers, who are facing challenges following the outbreak of COVID-19 pandemic in the country.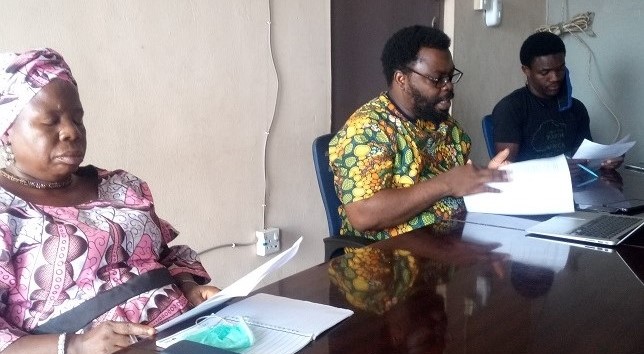 At a media session in Lagos on Wednesday, June 3, 2020, Mr. Sulaimon Arigbabu, a member of the VFS, lamented that the total or partial closure of markets and restrictions on movement have had a considerable impact on farmers' income, and are also driving up the rate of post-harvest losses.
According to him, even before COVID-19, government had challenges reaching "real" farmers through its interventions. He added that the issue must be immediately addressed for farmers to access any benefits of government intervention.
"We therefore need a stop-gap measure on how to identify informal and formal farming groups throughout the country to ensure that no one is left behind," he said, adding that farmers, especially smallholders, are a vulnerable group that need to be taken care of in this time.
"Farmers, already hampered by challenges with access to market and the lowest levels of access to finance of any key sector in normal times, now find it even more difficult to sell their harvests in a period marked by lockdowns in many of states. This is affecting incomes of local farmers, and driving more people into poverty," Arigbabu stated.
Arigbagu, who is Executive Director of HEDA Resource Centre, was in the company of two farmers: Victoria Adenike Bolujoko of the Cooperative Agricultural Multipurpose Society Limited (Ojo-Badagry LGAs, Lago) and Temitope Odetola of the Youth in Employment Agriculture Programme.
Arigbagu said that Police intimidation and extortion by various security agencies at check points across the country constitute a major problem in escalation of food prices.
He stressed that smallholder farmers were disproportionately impacted by climate change and the pandemic is thus aggravating existing challenges faced by the farmers.
To address these various challenges, he urged the government to:
Strict adhere to the directive to all government officials at all levels to work within the framework of the Federal COVID-19 Emergency Action Response Plan.
Work with smallholder farmers associations and farmers support organisations to come up with ways in which access to finance facilities can effectively support agricultural value chain actors, especially female and male smallholder farmers.
State governments should set-up measures to avoid any form of disturbance to the supply chain while maintaining security and food safety.
Federal and state governments should improve coordination and work with civil society organisations as well as farmers associations to ensure that food palliative to poor farmers reach the people who need them.
Government should set up community/LGA market aggregation system and buy-off farmers' produce at a minimum price enough to cover farmers' production costs for the next 12 months.
Government should intensify engagement of local and smallholder farmers in programmes like school feeding.
Nigerian Meteorological Agency (NIMET) should intensify efforts at working with partners to reach farmers in all the different agro-ecological zone with seasonal rainfall predictions in formats that are easily understood to enable them operate their farms in ways that respond to the expected rainfall.
State Ministries of Agriculture should facilitate farmers' access to inputs to optimise their harvests, be more resilient to climate change, and guarantee food security post-Covid-19 era in the country.
Government should coordinate with states to establish a National Food Security Trust Fund (NFSTF) to address issues of food insecurity in the future, provide risk hedging measures to farmer SMEs, provide pool of resources for immediate deployment to support populations at risk of hunger, and engender mitigation against vulnerability to food crises.
Small household grants should be extended to poor farmers at scale to enable them stay afloat in the pandemic period, and effort should be made to ensure that these reach real male and female farmers.
Extend access to finance facilities to ensure that farmer cooperatives and processing companies can procure technologies and inputs that will make their businesses grow.
Generate more demand for farm products and open more market channels for movement of food from rural areas to cities.