With support from Unilever, the Climate & Sustainable Development Network of Nigeria (CSDevNet) has embarked on an advocacy campaign on COVID-19 at Akpanya and Odolu communities bordering Enugu and Kogi states.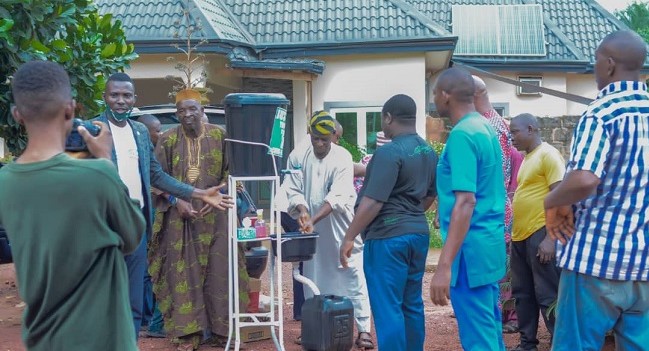 Items such as hand washing machines, reusable nose masks, hand sanitisers, soaps, and other personal hygiene essentials were distributed on Wednesday, May 20, 2020 during an interaction with community officials of Igalamela/Odolu in Kogi State.
CSDevNet officials disclosed that the interstate border campaign was informed by the fact that, presently, Kogi State is yet to record any COVID-19 case.
Traditional rulers, Michael Atuluku of Odolu and Sylvester Onoja of Akpanya, who took delivery of the items on behalf of their communities, appreciated the gesture and called for increased collaboration by the government, corporate organisations and individuals for such an effort to be replicated to ensure that Nigeria and the entire world can overcome the pandemic in no distant time.
Advocacy/Stakeholder Engagement Manager at CSDevNet, Mr. Monday Steve Abuh, stated that since Nigeria recorded her first case of the coronavirus disease (COVID-19) on February 27, 2020 through an Italian citizen, the record has consistently been on the increase, albeit across the country.
"As at the time of this activity, Nigeria had recorded 6,677 cases, with 1,860 discharged, and 202 deaths recorded across the country," he said adding that, from the early stage of the pandemic till now, CSDevNet in collaboration with organisations such as WelfareAid Initiatives, Nigerian Civil Society Framework for Paris Agreement and SDGs and the Pan African Climate Justice Alliance has been involved in campaigns on COVID-19, and donation of some hand washing facilities nationwide.
"Some of the most recent of such activities held in Anyigba, Dekina Local Government of Kogi State, where the campaign was taken to the various public places, and the palaces of traditional rulers where these items were donated.
"In the bid to intensify this effort, CSDevNet went into collaboration with Unilever who has before now made huge donation to both government, and non-governmental organisations (NGOs) acrsoss the country and beyond," Abuh added.
He disclosed that, with a membership of 300 organisations cutting across the six geo-political zones in the country, CSDevNet brings together community associations, pastoralists, youth and women groups, media networks, faith-based and civil society organisations working on sustainable development goals to commonly promote and advocate pro-poor, climate-friendly and equity-based responses to climate change and sustainable development.
"CSDevNet unifies and coordinates isolated civil society efforts on climate change advocacy in Nigeria to ensure that people-centred response mechanisms are accorded desirable attention and relevance as climate change is increasingly mainstreamed into national and global poverty reduction and sustainable development strategies and actions," he noted.