Justice Oluremi Oguntoyinbo of the Federal High Court, Lagos on Thursday, October 5, 2017 chided the Nigeria Police Force (NPF) over its approach in the trial of a film maker, Olajide Kazeem, popularly known as Seun Egbegbe, who is facing a multi-million-dollar fraud charge.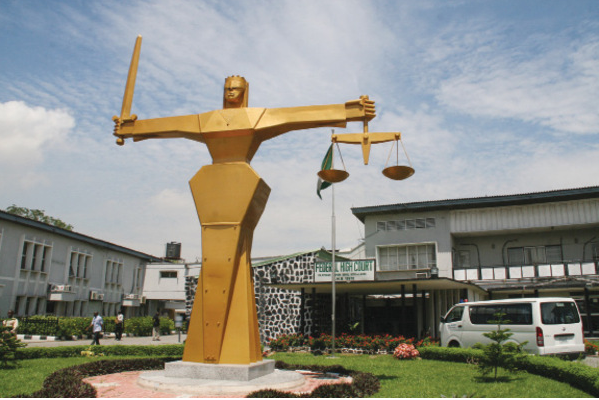 Other accused persons charged together with him are Oyekan Ayomide, Lawal Kareem, Olalekan Yusuf and Muyideen Shoyombo.
At the resumed trial of the accused persons on Thursday, the prosecution failed again to produce its first witness, Inspector Bello Abubakar, who had already commence his testimony but yet to conclude.
The witness had failed to appear in court to conclude  his testimony despite several adjournments, a situation that made the court to issue bench warrant against the witness.
The prosecutor, Innocent Anyigor, informed the court of various attempts to get the witness who he said was out of the jurisdiction of the court.
But the court expressed it's disappointment over ways and manners the Police is handling the case.
Justice Oguntoyinbo ordered the prosecutor to produce the witness unfailingly on October 18 in order not to strike out the testimony of the witness.
The court also ordered the fifth defendant, Shoyombo, to get a counsel before the next hearing date.
Egbegbe and his co-accused were re-arraigned by the police in a third amended charge marked FHC/L/40c/2017, on charges bordering on conspiracy, stealing, and fraud in the sum of N39, 098,100, $90,000 and £12,550, belonging to over 30 Bureau De Change Operators (BDC).
The police alleged that the defendants defrauded the BDC operators mostly by falsely representing to the victims that they had foreign currencies to sell or buy from the BDC operators.
The police alleged, for instance, that on February 2, 2017, Egbegbe and his co-defendants fraudulently obtained the sums of N2.45 million and £,3,000 from one Alhaji Isa Adamu in Lagos under the guise that they wanted to see the naira and buy the pounds.
Among the other victims of the alleged frauds by Egbede were Mohammed Sanni, who was allegedly defrauded of N2.46 million on 2017 New Year day; Jubrila Ado, allegedly defrauded of N1.257 million on September 9, 2016; Hassan Amodu, allegedly defrauded of N600,000 in January 2016; Sanni Hassan, defrauded off N1.43 million and £2,750 in August 2015; Saidi Abdullahi, defrauded of N700,000 on April 18, 2016; Atairu Abdullahi, defrauded of N1 million on June 23, 2016; and Abdullahi Babadisa, defrauded of N650,000 in January 2016.
According to the prosecutor, Egbegbe and the others acted contrary to Section 8 of the Advance Fee Fraud and Other Related Offences Act 2006 and were liable to be punished under Section 1(3) of the same.
By Chinyere Obia