No fewer than 21 countries have pledged the sum of $152 million to support the implementation of the New Urban Agenda (NUA), the United Nations Human Settlements Programme (UN-Habitat) has said.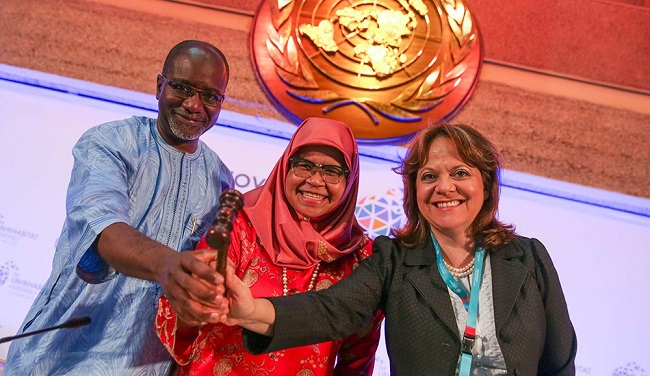 Executive Director of UN-Habitat, Maimunah Mohd Sharif, made the disclosure on Friday, May 31, 2019 as the first UN-Habitat Assembly (UNHA 1) concluded its deliberations in Nairobi, Kenya.
Though details are sketchy, indications are that the gesture signposts the UN body's commitment towards ensuring a speedy realisation of the NUA towards achieving the Sustainable Development Goals (SDGs).
In October 2016 in Quito, Ecuador, the NUA was unanimously adopted at the United Nations Conference on Housing and Sustainable Urban Development (Habitat III), serving as a new vision for cities and municipalities for the next 20 years.
It is anchored in participatory urban policies that mainstream sustainable urban and territorial development as part of integrated development strategies and plans, supported by institutional and regulatory frameworks linked to transparent and accountable finance mechanisms.
At the closure of the flagship conference in the Kenyan capital, UNHA 1 adopted a Ministerial Declaration, five Resolutions, and one Decision to promote sustainable urbanisation.
The resolutions concern:
The Strategic Plan for the period 2020–2023;
UN System-Wide Guidelines on Safer Cities and Human Settlements;
Enhancing capacity-building for the implementation of the New Urban Agenda (NUA) and the urban dimension of the 2030 Agenda for Sustainable Development;
Achieving gender equality through the work of UN-Habitat to support inclusive, safe, resilient, and sustainable cities and human settlements; and
Enhancing urban-rural linkages for sustainable urbanisation and human settlement.
The decision highlights the arrangements for the transition towards the new governance structure of UN-Habitat, and the Ministerial Declaration portrays the commitment for accelerated implementation of the NUA towards the achievement of the SDGs.
In the closing plenary, delegates adopted the draft report and the draft proceedings of UNHA 1 as well as the report of the first meeting of the Executive Board.
In her closing remarks, Sharif announced that "UN-Habitat is back" and lauded the Assembly for successfully completing its work, noting that 21 countries had pledged $152 million to support the implementation of the NUA.
UNHA 1 President, Martha Delgado Peralta, gaveled the meeting to a close at 5.17 pm.