Following confirmation of the second case of Coronavirus (Covid-19) in Nigeria, WaterAid is re-echoing the importance of frequent handwashing with soap to prevent the spread of this and other diseases.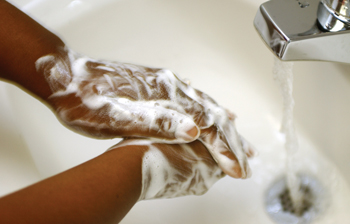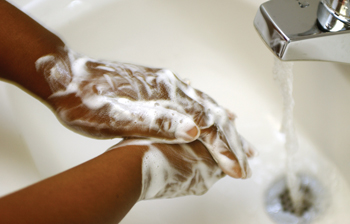 Handwashing with soap and water can drastically reduce the risk of people contracting infectious diseases like the Coronavirus, which is now recognised as a public health emergency of international concern, according to WaterAid.
However, figures from the WHO/UNICEF 2019 Joint Monitoring Programme (JMP) reveal that 58% of homes in Nigeria do not have handwashing facilities with soap and water while national statistics put the population of those in Nigeria that lack access to handwashing facilities with soap and water at about 150 million.
Furthermore, only 5% of health facilities in Nigeria have combined basic water, sanitation and hygiene services; with just 13% of schools in the country having basic water and sanitation services.
Against this sad reality, large segments of the population – healthcare workers, babies, children, public workers and indeed everyone – are at risk of contracting diseases like the Coronavirus. Recognised as the single most cost-effective do-it-yourself vaccine, handwashing with soap and water can reduce disease spread by nearly half.
The World Health Organisation 2019 public advisory recommends regular and thorough washing of hands with soap and water to protect oneself and others.
Critical times for handwashing with soap include after toilet use, before cooking or preparing food, before eating, and before feeding someone, including before breastfeeding; after handling money, touching animals, being out in public or sneezing and coughing. It is important for everyone to wash their hands at all critical times to sustain good hygiene behaviours, adds WaterAid.
Tim Wainwright, Chief Executive, WaterAid UK, says: "Frequent handwashing with soap and water is one of the key components of controlling the spread of infectious diseases, including Covid-19. However, one in six healthcare facilities globally do not have both soap and water available for doctors, nurses and patients to wash their hands, which can make disease prevention and delivering safe, quality care much more challenging. In addition, about two in five people in sub-Saharan African also have nowhere to wash their hands with soap and water in their homes.
"Handwashing is one of the simplest and most effective disease prevention methods available. It's been shown to reduce cases of all respiratory diseases by 20% and diarrhoea by 30% and can help healthcare centres be better placed to support a response to an outbreak. If everyone, everywhere had a place to wash their hands with soap and water as often as needed it would go a long way towards helping to contain and prevent the spread of many diseases."
Evelyn Mere, Country Director, WaterAid Nigeria, says: "We cannot over emphasise the crucial role handwashing with soap plays in preventing the spread of diseases and protecting oneself. Hands are carriers of germs and we often use them to touch several unclean surfaces and then back to touch our food, mouth, eyes, nose or body.
"Handwashing with soap and water can save lives and we can only achieve this by changing our behaviours and making handwashing facilities available in homes, schools, healthcare facilities and public places and ensuring we use these facilities to wash our hands with soap and water at all critical times."