In response to reports that the Donald Trump administration in the US is pushing to bail out fossil fuel companies in the midst of the coronavirus outbreak and subsequent oil crash, 350.org is doubling down on its demands to halt fossil fuel finance and bail-outs, hold fossil fuel companies accountable, and build real community-led solutions to the climate crisis.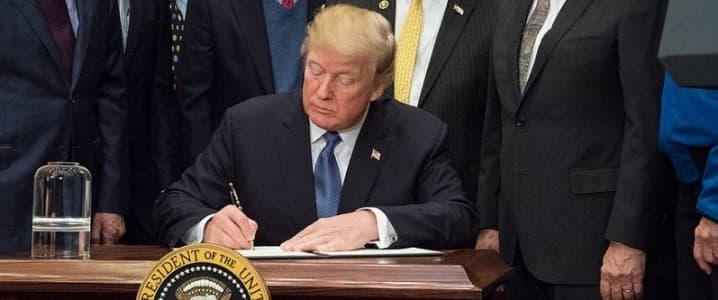 As oil prices fall to multi-year lows on Monday, March 9, 2020, reports surfaced that the Trump Administration will review solutions to the pain felt by US oil producers.
Trump Administration officials, it was gathered, will present the President with options, which will include financial assistance to industries affected by the coronavirus and the oil price crash. These measures may include cash injections, tax credits, payroll tax cuts, and tariff reductions on specific Chinese imports.
Oil prices fell sharply since on Monday after the OPEC+ talks fell apart on Friday and Saudi Arabia and Russia vowed to increase oil production in an oil price war that saw Saudi slash its OSP for April by between $6 and $8 per barrel.
By Monday afternoon, the WTI Crude grade had fallen 25.02% to $30.95 – believed to be the largest oil price slide in years.
US oil companies were hit hard on Monday, with Chevron (-15.37%), Occidental (-52.01%), Apache (-53.86%), Marathon Oil (-46.81%), ExxonMobil (-12.22%), EOG Resources (-31.98%), ConocoPhillips (-24.87%), and Pioneer Natural Resource (-36.96%), all falling sharply on the day.
But Tamara Toles O'Laughlin, 350.org North America Director, believes that, rather than bailing out fossil fuel billionaires, they should instead be made to pay for "their destructive business models".
Her words: "Instead of bailing out fossil fuel billionaires, we need to make them pay for their destructive business models and invest in care and repair. 45's climate-denying administration is blatantly favouring climate crisis profiteers, instead of supporting workers and the most vulnerable people across America.
"If we learned anything from the 2008 financial crash and bank bail-out, it's that propping up the already-wealthy only compounds harms on ordinary people. There is already a plan to justly and swiftly transform our economy: it's called the Green New Deal.
"In the midst of a global viral outbreak, it is essential that governments at all levels direct resources and efforts to control the epidemic and ensure free and accessible healthcare to the people most affected. While right-wing governments stoke hate, fear and inequity, we are uniting across our differences to build community-led solutions towards a fairer economic model that prioritises our health and safety."