A top public health official, Anthony Fauci, on Sunday, March 29, 2020 said U.S. would likely end up with millions of coronavirus cases.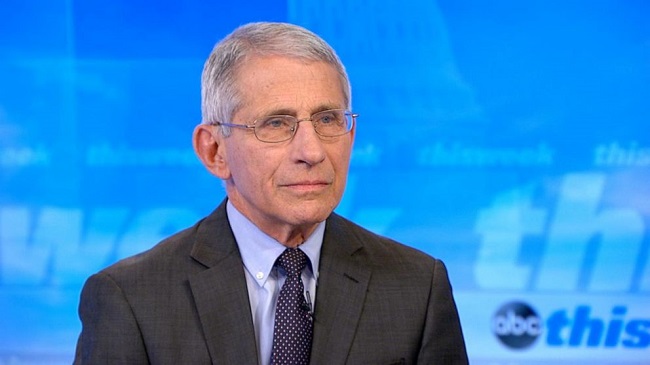 Fauci, who made the statement while speaking on CNN, cautioned that the death toll in the U.S. could be between 100,000 and 200,000, but he was, however, hesitant to make projections.
There are already more than 130,000 cases and 2,200 deaths in the country.
State officials reported nearly 450 deaths on Saturday alone.
Fauci, the Head of the National Institute of Allergy and Infectious Diseases at the National Institutes of Health, also said that the country's testing capacity remained somewhat weak.
His comments came as another prominent member of the task force, Deborah Birx, offered a similarly grim assessment: "No state, no metro area, will be spared."
The White House will decide this week whether to relax national social distancing guidelines against the advice of medical experts.
A 15-day plan advising most Americans to slow the virus's spread by staying at home and avoiding groups of more than 10 people expires on Monday.
With the economy in tatters, Republican lawmakers and conservative economists have urged President Trump to roll the measures back. Doctors and public health officials warn any rollback could trigger new waves of disease and death. Even now, the virus is overwhelming hospitals, draining medical supply stockpiles and spreading undetected due to a shortage of tests.
Trump will review infection data before making a decision, Vice President Pence, who leads the coronavirus task force, said on Fox News this weekend. "While the president has said he'd like to open the country up in weeks not months," Pence said, "ultimately, the president will make a decision that he believes is in the best interest of all of the American people."
Trump has whipsawed between contradictory plans in his comments, sowing confusion among state officials and the public. He said last week he would like to "open things up to very large sections of our country" as soon as Easter.
On Saturday, the president said he might quarantine New York, New Jersey and parts of Connecticut from the rest of the country by the end of the day, blindsiding governors in those states and causing some people to flee New York City. Ultimately, he scrapped the idea hours later, via tweet.
The president might lack the power to send the country back to work, even if he decides to try. Governors "will have the final say on when restaurants, stores and other gathering places in their states can reopen," The Washington Post reported. Some governors have been coordinating with each other across party lines, creating an alternate power center to the White House.
Meanwhile, the virus is spreading from coastal hotspots into the country's interior. Officials in Boston, Detroit, Chicago, Atlanta, Milwaukee and Los Angeles are watching caseloads climb and taking extraordinary measures to prepare, including turning the continent's largest convention center into a makeshift hospital.
Millions of Americans are on the move to less infected towns and cities, or even to the edge of wilderness – a mass migration that "might contain the seeds of a wholesale shift in where and how Americans live."
A post analysis of more than a dozen large cities found a notable decline in crime since mass quarantines went into effect. Police officers, however, have been catching the virus in some of those same cities. Three officers in Houston, for example, tested positive after fighting a suspect with feverlike symptoms.
Other countries face their own forms of chaos. Indian Prime Minister Narendra Modi apologised "to my underprivileged brothers and sisters" after a lockdown of the country's 1.3 billion residents and its train system forced tens of thousands of migrants to walk back to their villages – some for hundreds of miles. Thousands of American travellers have been stranded in the country.
In Europe, Spain and Italy still face daily death tolls in the hundreds despite lockdowns. Australia has told people not to go outside in groups of more than two as the infection proliferates in every corner of the world.
Still, there is some good news. South Korea, with a viral tracking system far better than most countries, announced this weekend that its recoveries now outpace and outnumber infections.
China's infection rate appears to have stabilised after an ultra-strict quarantine programme, though visitors from abroad are still spreading the disease, and some doubt the accuracy of the government's reports.