Some civil society groups have been deliberating on ways to tackle climate change even as preparations are on for the forthcoming 28th Session of the Conference of the Parties (COP28) to the United Nations Framework Convention on Climate Change (UNFCCC) holding this year in the United Arab Emirates (UAE).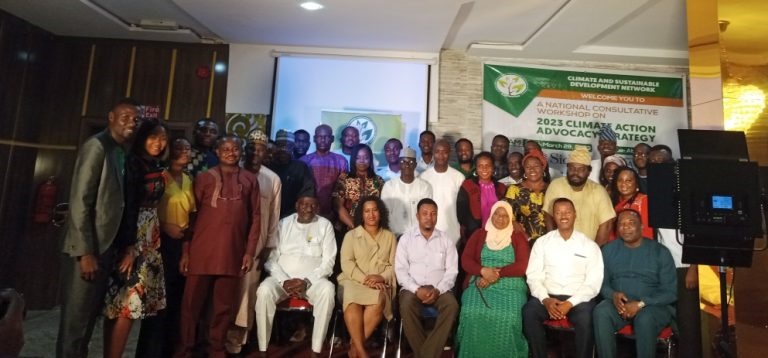 The deliberation took place in Abuja on Wednesday, March 29, at a National Consultative Workshop on the 2023 Climate Action Advocacy Strategy.
The workshop was jointly organised by the Climate and Sustainable Development Network (CSDevNet), the Pan African Climate Justice Alliance (PACJA), and the Swedish International Development Agency (SIDA).
Chairman, Board of Trustees, CSDevNet, Prof. Ibrahim Choji, expressed optimism in the collaborations to combat climate change.
"On the other hand, we are here to have a robust discussions on domestication of the 2023 advocacy strategy at the national level, even as we begin to prepare for COP28 in the United Arab Emirates," Choji said.
COP28, is the UN 2023 climate change conference, taking place at Dubai, in the UAE and would come up from November 30 to December 12.
Choji revealed that, in 2018, CSDevNet as a Sub-Grantee of PACJA was privileged to receive funding for the SIDA Deepening Nigerian Civil Society Engagement in Post-Paris Agreement and SDGs dialogue and Response Strategies grant.
"A two year (2018 to 2020) project that was extended to 2021 by the unfortunate global health pandemic of COVID-19.
"As a proud designated national platform of PACJA, we are proud to also mention here that some of the activities from the SIDA project yielded outcomes we are proud of.
"We also saw for the first time in Nigeria, the Federal Government through the Ministry of Environment partnering with CSDevNet to jointly produce the 2021 COP25 report, as a result of our robust and inclusive civil society engagement," the chairman said.
Choji commended PACJA for itsleadership role on the African continent.
The Executive Director, PACJA, Dr Mithika Mwenda, assured that, as a continental platform, it would implement strategies to combat climate crisis.
"We are having crisis of disproportionate nature and we need to tackle it," Mwenda said.
Mr Ayele Kanede, SIDA, Regional Programme Manager on Environment and Climate Change, also promised that it would jointly tackle climate change at the grassroots.
"We have discovered that the impact of these climate changes are really seen within these communities, because they are most disproportionately affected by the climate change," Kanede said.
By Abigael Joshua