COP27 target
The 27th session of the Conference of the Parties (COP27) to the United Nations Framework Convention on Climate (UNFCCC) promises to focus on how to implement earlier agreements reached by member countries.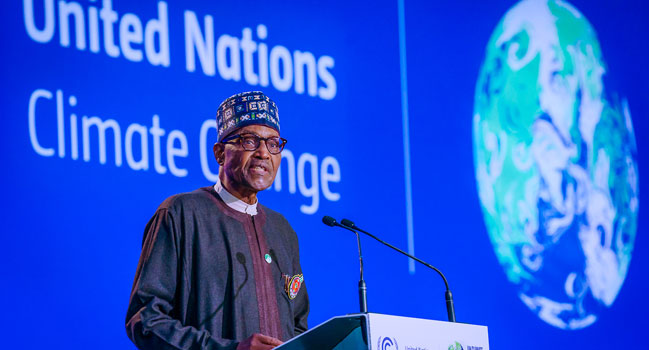 COP27, according to Abdel Fattah El-Sisi, the President of Egypt, "is an opportunity to showcase unity against an existential threat that we can only overcome through concerted action and effective implementation."
Having set targeted goals on how to mitigate and help people adapt to climate change devastations, it is obvious that the time to execute a well-thought-out plan on reducing emissions and maintaining an average temperature rise below 1.5 degrees Celsius is now.
The United Nations Environment Programme (UNEP) Emission Gap report 2021 underscores the importance for countries to begin the effective implementation of their Net-Zero ambition to usher in the just transition which is expected to reduce global warming to 2°C closer to the objective of the Paris Agreement.
Nigeria's climate change crisis
There is no doubt that the warning by several experts concerning the increasing changes in weather conditions calls for urgent and decisive attention to combat the climatic challenges bedeviling Nigeria.
For many centuries, Nigeria's dry lands have supported human communities. Historically, farmers and pastoralists had access to large areas of arable land, permitting long fallow periods and allowing for mobility to exploit forage and water resources both seasonally and in times of drought.
But today, due to climatic variability and anthropogenic activities such as carbon emission, deforestation, extensive cultivation, overgrazing, bush burning, fuel-wood extraction, logging, charcoal production, faulty irrigation systems, intense industrialisation, food security, and agricultural production, the country has remained at a very low standard compared to other regions across the world.
While some scientific and scholarly findings have attributed this problem to climate stress, soil quality, water scarcity, drought, and disease, Nigeria's climate change crisis seems to be on the increase, a situation that has led to drought, desertification, migration, low farm produce, flood and loss and damage of lives and properties.
In a joint survey carried out by Prof. Mark New, Director of African Climate Development Initiative (ACDI), food insecurity and low agricultural production can be linked to weak, or no adaptation policy put in place to strengthen climate change adaptation and resilience.
Climate change policies provide a better alternative and opportunity for sustainable agricultural practices, increase in the food supply system, disruption in the chain of production and distribution, reduction in disease outbreaks, and promotion of best practices for crop production and other socio-economic activities.
In Nigeria, seven out of every 10 farmers are women and children and are disproportionately affected by the aftermath of drought and desertification due to their high vulnerability and low-coping capacity. This exposure can also be associated with deeply rooted cultural systems and unjustified assumptions about women and children.
This demography is highly marginalised and excluded in climate decision-making processes, which directly affects them. An average Nigerian female in a rural community depends on agricultural produce for feeding and financial support, and a household with little or no produce that is not sufficient for feeding the family due to drought, flood, desertification, or high temperature, will only think of stomach survival. It is important to note that this ugly circumstance can create room for child marriage in exchange for socio-economic benefits.
Where we are
Nigeria made a loud statement during COP26 in Glasgow, United Kingdom by committing to a net-zero transition by 2060. This was followed by the signing of the Climate Change Bill into an Act, thus giving the nation's net-zero ambition legal backing.
To promote land restoration, Nigeria has kick-started the restoration of four million hectares of its degraded land by 2030 to encourage land accessibility, sustainable livelihood, and food security. Furthermore, Nigeria has also displayed its commitments by launching an Energy Transition Plan to guide the country's pathway to achieving net-zero emissions by 2060.
This demonstration reflects the country's readiness to implement its emission reduction agenda and meet its National Determined Contributions (NDCs) to mitigate, adapt and transit to a clean as well as a sustainable economy.
The stake for Nigeria at COP27
Lack of access to climate finance in strengthening adaptation and resilience approach towards mitigating climate change disaster and ushering in just transition could make Nigeria more vulnerable to weather stress leading to extreme climate events that are worse than what is experienced today. Nigeria's future for a sustainable environment and livelihood depends on the outcome of the meeting in November in Egypt.
Therefore, Nigeria's COP27 priorities will focus on how to explore options for climate finance and building partnerships that will drive the country's emissions reduction plan, adaptation, and climate change mitigation.
In doing this, the spotlight will be on funding that drives nature-based solutions such as land restoration, reforestation, combating desertification, and climate smart-agricultural practices. Nigeria will also seek collaboration and support on sustainable waste management, renewable and clean energy provision, and loss and damage finance.
Call for Climate Justice
Financial pledges made by developed countries to assist developing countries in combating climate change crises should be fulfilled.
Nigeria needs climate finance that will strengthen its adaptation strategies without which drought and desertification would worsen and affect food security, and overall socio-economic activities.
Nigeria contributes less than 2% to global emissions but is adversely affected by climate change, leading to gender-based violence, loss of livelihood, poverty, insecurity, and institutional and economic instability.
It is pertinent for developed countries whose emissions are primarily responsible for the climate change crisis in Nigeria and other regions of the Global South to support climate vulnerable countries with easy-to-access funding opportunities to strengthen climate change adaptation and resilience approach in promoting smart agricultural practices, accelerate food security, reduce gender-based violence, restore degraded lands, strengthen just transition and net-zero commitments.
By Samuel Chijioke Okorie, an environmental crusader and communications and policy advisor to the Global Legislators Organisation for a Balanced Environment (GLOBE, Nigeria)