The Green Climate Fund (GCF) has doubled the amount of approved climate finance during the past year, the Co-Chairs to the GCF Board reported on Wednesday, November 8, 2017 to the 23rd Conference of the Parties (COP23) of the United Nations Framework Convention on Climate Change (UNFCCC) that is currently convening in Bonn, Germany.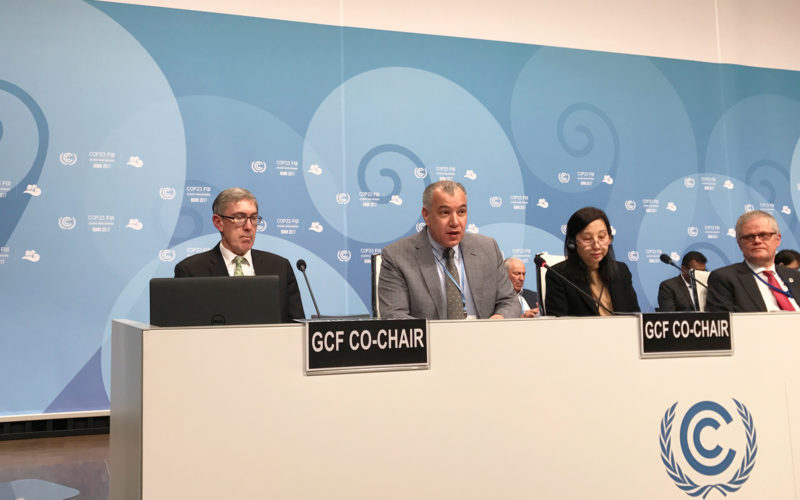 An acceleration of GCF's distribution of climate finance "translates to double the number, and more than double the amount of approved GCF funding reported at the COP last year," said GCF Board Co-Chair Ayman Shasly from Saudi Arabia. "The Green Climate Fund is picking up its speed to programme resources for the implementation of ambitious, paradigm shifting action," he stated.
Mr Shasly explained that the GCF Board has approved a total of $2.65 billion in GCF funding for 54 climate change projects and programmes to be implemented in 73 developing countries. When accounting for co-financing with other contributing organisations, the GCF portfolio is now valued at $9.16 billion.
GCF Co-Chair Ewen McDonald from Australia, highlighted recent GCF progress in expanding its scope of climate finance to cover Reducing Emissions from Deforestation and forest Degradation (REDD+) as well as its moves to streamline its approval processes.
"I am delighted to report that the Green Climate Fund has taken solid steps to take our mandate on REDD+ into concrete action," said Mr McDonald. "At our last Board meeting, we allocated $500 million to a request for proposals pilot program on REDD+ results-based payments."
The REDD+ request for proposals programme will allow for payments to developing countries for emissions reductions achieved through REDD+ activities.
The GCF Board also recently approved a pilot scheme for a Simplified Approval Process,  which will streamline the approval process for small-scale climate finance proposals, particularly from direct access Accredited Entities.
Representing the 24-member GCF Board, Mr McDonald and Mr Shasly said the Green Climate Fund will continue to respond to the guidance from the UNFCCC Conference of the Parties (COP) in channelling climate finance to developing countries to promote a paradigm shift towards low-emission and climate-resilient development pathways.
The COP established the Green Climate Fund in 2010 as a dedicated international climate finance institution, and requested the GCF Board to report on the Fund's progress annually.