Raising ambition to act on climate change and raising the large amount of finance needed to do it are so completely inter-connected that governments and the entire financial sector must see it as a single challenge.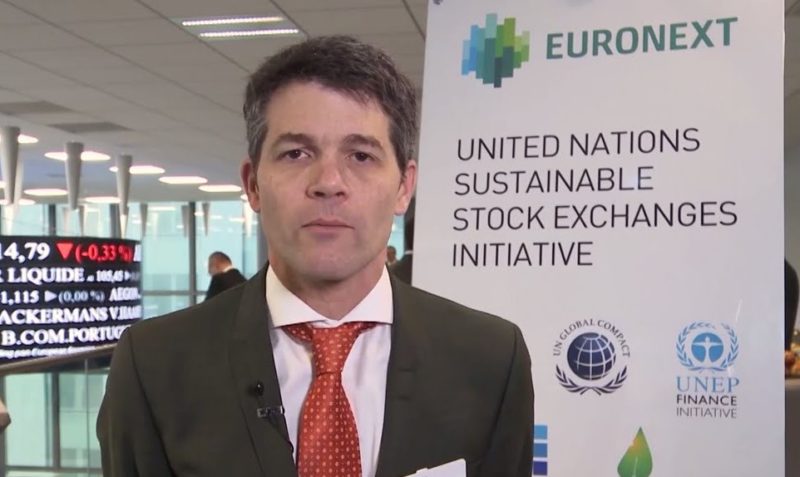 High-level representatives from across the sector on Monday, November 13, 2017 at the COP23 Finance for Climate Day highlighted their efforts to meet the goals of the Paris Climate Change Agreement and underlined that this challenge of coordination and coherence needed to be quickly addressed.
They set out what needs to be done next by governments, cities, states, business and multilateral institutions to secure the pace and scale of investment required, before and after 2020, to meet the Paris goal of keeping the average global temperature rise well below 2 degrees Celsius and as close as possible to 1.5 Celsius.
Eric Usher, Head of UNEP Finance Initiative, said: "At the heart of the climate challenge are two gaps we urgently need to bridge: the ambition and the investment gap."
"It is up to national governments now to increase the ambition of their NDCs to close the 17 GtCO2e emissions gap that we still face for 2030. When it comes to the investment gap, however, we need all financial players – public, private, domestic, international – and including markets and regulators, to work together effectively to mobilise at least $1.5 trillion of climate finance that is needed every year. Let this Finance Day be the start of a new and determined chapter of climate finance innovation, collaboration, and impact," he said.
What is more, every dollar invested in cutting greenhouse gas emissions and adapting to climate change gets double the bang for the buck because the results directly support the only sustainable future possible, which is captured in the international community's 2030 Agenda for Sustainable Development.
Finance for climate is flowing at a greater pace than ever, with vibrant and growing markets for renewable energy, electric vehicles, green buildings and climate-smart agriculture seeing aggressive growth, backed by exponential advances in innovative green financial instruments, indices and markets.
Equally, the finance sector is recognising to a much greater degree where and how climate change presents risks to its existing investments and the need to adjust their portfolios away from carbon-intensive assets to reduce that risk.
However, amid discussions at COP23 on Monday, much more is said to be needed to secure finance and investment at the scale required to deliver a fully de-carbonised and climate-resilient global economy by 2050.
Laura Tuck, Vice President Sustainable Development, World Bank, said: "The potential for climate friendly investment in areas such as clean energy and climate-smart agriculture is enormous.
"The key is to get the funding to flow so that everyone everywhere can benefit from low-carbon and climate resilient investments. That's why we are working with the UN and our other development partners to create the conditions that will attract investors and to get all forms of finance – public, private, philanthropic – working together for maximum impact," she said.
Vladis Dombrovskis, Vice-President of the European Commission, said: "Hundreds of billions of euros in investment are needed to transition to a low carbon economy and meet the target of well below 2 degrees warming. This is a challenge but also an opportunity for the EU to become a magnet for green investment and lead the way in mobilising both public and private financing for sustainable projects. That is why we are preparing for early next year an Action Plan on sustainable and green finance."
Brahim Hafidi, President of Souss-Massa Region and First Vice-President of the National Association of Moroccan Regions, said: "Today 'Localising is the new Globalising', and Cities and Regions around the world have demonstrated their leadership in climate action for inclusive, resilient, sustainable and low carbon infrastructure development plans."
"The Global Mapping of Initiatives for Localising Climate Finance, launched today by the Cities Climate Finance Leadership Alliance, shows acceleration in providing funding, financing and technical assistance support to local and regional governments from the whole range of stakeholders. This major publication is a unique reference-compass to help match demand and supply. The integration of local and subnational projects in NDC investment plans, especially for adaptation and resilience funding and financing, is a key priority," he said.
Peter Damgaard Jensen, CEO of Danish Pension provider PKA and Chair of the Institutional Investors Group on Climate Change (IIGCC), said: "Strong investment signals from policy makers across carbon trading, energy, transport and buildings are essential to unlock the necessary capital. Climate-related disclosure consistent with the recommendations of the FSB's Task force will also be paramount, to provide greater legal certainty alongside efforts to ensure an international level playing field."
"That is why my organisation is launching a new programme focused specifically on investor practices in this area, with a focus on ensuring ongoing dialogue between IIGCC's growing membership of asset owners and managers about latest developments of climate disclosure in line with TCFD recommendations. Effective pricing of climate related risk by financial markets is essential to help realise the goals of the Paris Agreement," he said.
The High Level Finance for Climate Day at COP23 focused on:
Investment to reallocate capital flows towards low-carbon and resilient growth, with additional upfront capital or risk sharing, to deliver financial returns and resource savings;
Inclusion to ensure that flows reach the countries and communities with greatest needs in terms of both sustainable growth and reducing vulnerability, effectively doubling flows to developing countries by 2020;
Integration to make the long-term consequences of climate change and wider sustainability factors a routine part of financial decision-making and accountability both in terms of opportunity and risk, to avoid financial system instability;
Innovation to enable green deal flow, particularly risk sharing for emerging economies and frontier markets, for domestic markets to grow;
Infrastructure that provides climate resilience tapping the financial system's endless capacity for innovation and speed of action;
Transparency on finance and investment through simple and harmonised approaches, norms and standards that in turn support climate investment plans and polices tailored to national needs, priorities and capacities, that attract diverse capital sources and greater private sector risk.