A doctor has become the first probable Ebola case in one of the eastern Democratic Republic of Congo's "high insecurity zones" which are dogged by militia violence and hard to access, the World Health Organisation (WHO) said on Friday, August 24, 2018.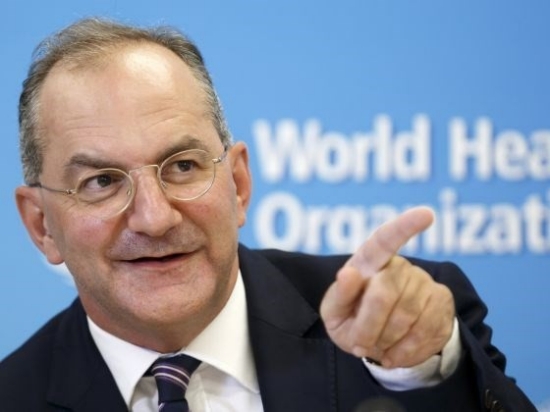 Since the outbreak erupted on Aug. 1, 103 confirmed and probable cases of Ebola have been identified in North Kivu and Ituri provinces, including 63 deaths, the health ministry said in an overnight update.
The doctor living in Oicha town in North Kivu has been re-hospitalised with Ebola symptoms after his wife was confirmed as having the disease when she traveled to the nearby city of Beni, Dr. Peter Salama, the World Health Organisation's head of emergency operations, said.
Oicha is almost entirely surrounded by Allied Democratic Forces (ADF) Ugandan Islamist militia, there are "extremely serious security concerns", he said. Aid workers, priests and government officials are held hostage in the area, he said.
The doctor's initial test for Ebola – which causes vomiting, fever and diarrhoea – had been negative, but fresh results are awaited, Salama told Reuters.
So far 97 of the doctor's contacts who may have been exposed to the virus have been identified, and vaccination has begun in the town, he added.
"So, for the first time really we have a confirmed case and contacts in an area of very high insecurity.
"It really was the problem we were anticipating and the problem at same time that we were dreading," Salama told a news conference.
WHO and health experts reached Oicha with armed escort by MONUSCO troops this week, he said, adding: "We know from that incident now in Oicha we are going to have to operate in some very complex environments due to security and access concerns."
In a further worrying development, angry youth burned down a health centre in another village, where vaccinations were under way, after learning of a death from Ebola, Salama said.
More than 2,900 people have been vaccinated against Ebola since the outbreak began, he said.
"We are at quite a pivotal moment in this outbreak in terms of the evolution of the outbreak epidemiologically and in terms of the response," he said.
NAN reports it is the 10th outbreak to strike the DRC since 1976, when Ebola was first identified and named after a river in the north of the country.
The health ministry added that "four additional experimental therapeutic molecules" had been approved by its ethics committee for treating infected patients.
Their laboratory names are ZMapp; Remdesivir; Favipiravir; and Regn3450 – 3471 – 3479.
The drugs — which have not been licensed but undergone safety trials — add to a prototype treatment called mAb114, whose use was announced on Aug. 14.
The first therapeutic drug against the virus to be used in an active Ebola epidemic in the DRC, mAB114, has so far been given to 10 patients "who are responding positively," the ministry said.
Developed in the United States, the prototype drug is a so-called single monoclonal antibody — a protein that binds on to a specific target of the virus and triggers the body's immune system to destroy the invader.
The experimental treatments are being used alongside an unlicensed vaccine called rVSV-ZEBOV, which was shown to be safe and effective in previous trials in an Ebola epidemic in West Africa.
Immunisation with rVSV-ZEBOV has been given to 2,179 front-line health workers, the ministry said.
The WHO has expressed concern that the violence in the province Kivu — entailing militias who often fight for control of resources, including a notorious Ugandan rebel force called the ADF, — could hamper the fight against rolling back the disease.
The outbreak in eastern DRC was declared a week after WHO and the government hailed the end of a flareup in northwestern Equateur province, at the other end of the vast country, which killed 33 people.
The government has earmarked 43 million dollars to fight the latest scare.
Ebola is a highly contagious haemorrhagic fever caused by a virus which is believed to have a natural home in species of tropical bats.
It causes serious illness including vomiting, diarrhoea and in some cases internal and external bleeding. It is often fatal.
In the worst Ebola epidemic, the disease struck the West African states of Guinea, Liberia and Sierra Leone from 2013 to 2015, killing more than 11,300 people.